THE MOMENT
Early Life
Betty Gray Mabry was born in Durham, North Carolina, on July 26, 1944. She developed an interest in music when she was about ten, and was introduced to various blues musicians by her grandmother, Beulah Blackwell, while staying at her farm in Reidsville. At 12, she wrote one of her first songs, "I'm Going to Bake That Cake of Love".The family relocated to Homestead, Pennsylvania, so her father, Henry Mabry, could work at a Pennsylvania steel mill. Davis attended and graduated Homestead High School. She decided to pursue a career in showbusiness after watching her father dance like Elvis Presley.
CAREER
When she was 16, Betty left Homestead for New York City, enrolling at the Fashion Institute of Technology (FIT) while living with her aunt. She soaked up the Greenwich Village culture and folk music of the early 1960s. She associated herself with frequenters of the Cellar, a hip uptown club where young and stylish people congregated. It was a multiracial, artsy crowd of models, design students, actors, and singers. At the Cellar she played records and chatted people up. She was a friend and early muse to fashion designer Stephen Burrows, who also studied at the FIT at the time. She also worked as a model, appearing in photo spreads in Seventeen, Ebony and Glamour.
In New York, she met musicians including Jimi Hendrix and Sly Stone. The seeds of her musical career were planted through her friendship with soul singer Lou Courtney, who reputedly produced her first single, "The Cellar", though the existence of that record has been questioned. She secured a contract with Don Costa, who had written arrangements for Frank Sinatra. As Betty Mabry, she recorded "Get Ready For Betty" b/w "I'm Gonna Get My Baby Back" in 1964 for Costa's DCP International label. Around the same time, she recorded a single, "I'll Be There", with Roy Arlington for Safice Records, under the joint name "Roy and Betty".
Her first professional gig came after she wrote "Uptown (to Harlem)" for the Chambers Brothers. Their 1967 album was a major success, but Mabry focused on her modeling career. She was successful as a model but felt bored by the work—"I didn't like modeling because you didn't need brains to do it. It's only going to last as long as you look good."
In 1968, when she was in a relationship with Hugh Masekela, she recorded several songs for Columbia Records, with Masekela doing the arrangements. Two of them were released as a single: "Live, Love, Learn" b/w "It's My Life". Her relationship with Miles Davis began soon after her breakup from Masekela. She featured on the cover of Miles Davis' album Filles de Kilimanjaro, which included his tribute to her, "Mademoiselle Mabry", and she introduced him to psychedelic rock and the flamboyant clothing styles of the era. In the spring of 1969, Betty returned to Columbia's 52nd St. Studios to record a series of demo tracks, with Miles and Teo Macero producing. At least five songs were taped during those sessions, three of which were Mabry originals, two of which were covers of Cream and Creedence Clearwater Revival. Miles attempted to use these demo songs to secure an album deal for Betty, but neither Columbia nor Atlantic were interested and they were archived into a vault until 2016 when they were released in the compilation, The Columbia Years, 1968–1969, by Seattle's Light in the Attic Records.
After the end of her marriage with Miles, Betty moved to London, probably around 1971, to pursue her modeling career. She wrote music while in the UK and, after about a year, returned to the US with the intention of recording songs with Santana. Instead, she recorded her own songs with a group of West Coast funk musicians including Larry Graham, Greg Errico, the Pointer Sisters, and members of Tower of Power. Davis wrote and arranged all her songs. Her first record, Betty Davis, was released in 1973. She released two more studio albums, They Say I'm Different (1974) and her major label debut on Island Records Nasty Gal (1975). None of the three albums were a commercial success, but she had two minor hits on the Billboard R&B chart: "If I'm in Luck I Might Get Picked Up", which reached no. 66 in 1973, and "Shut Off the Lights", which reached no. 97 in 1975.
Davis remained a cult figure as a singer, due in part to her unabashedly sexual lyrics and performance style, which were both controversial for the time. She had success in Europe, but in the U.S. she was barred from performing on television because of her sexually aggressive stage persona. Some of her shows were boycotted, and her songs were not played on the radio due to pressure by religious groups and the NAACP. Carlos Santana recalled Betty as "indomitable – she couldn't be tamed. Musically, philosophically and physically, she was extreme and attractive."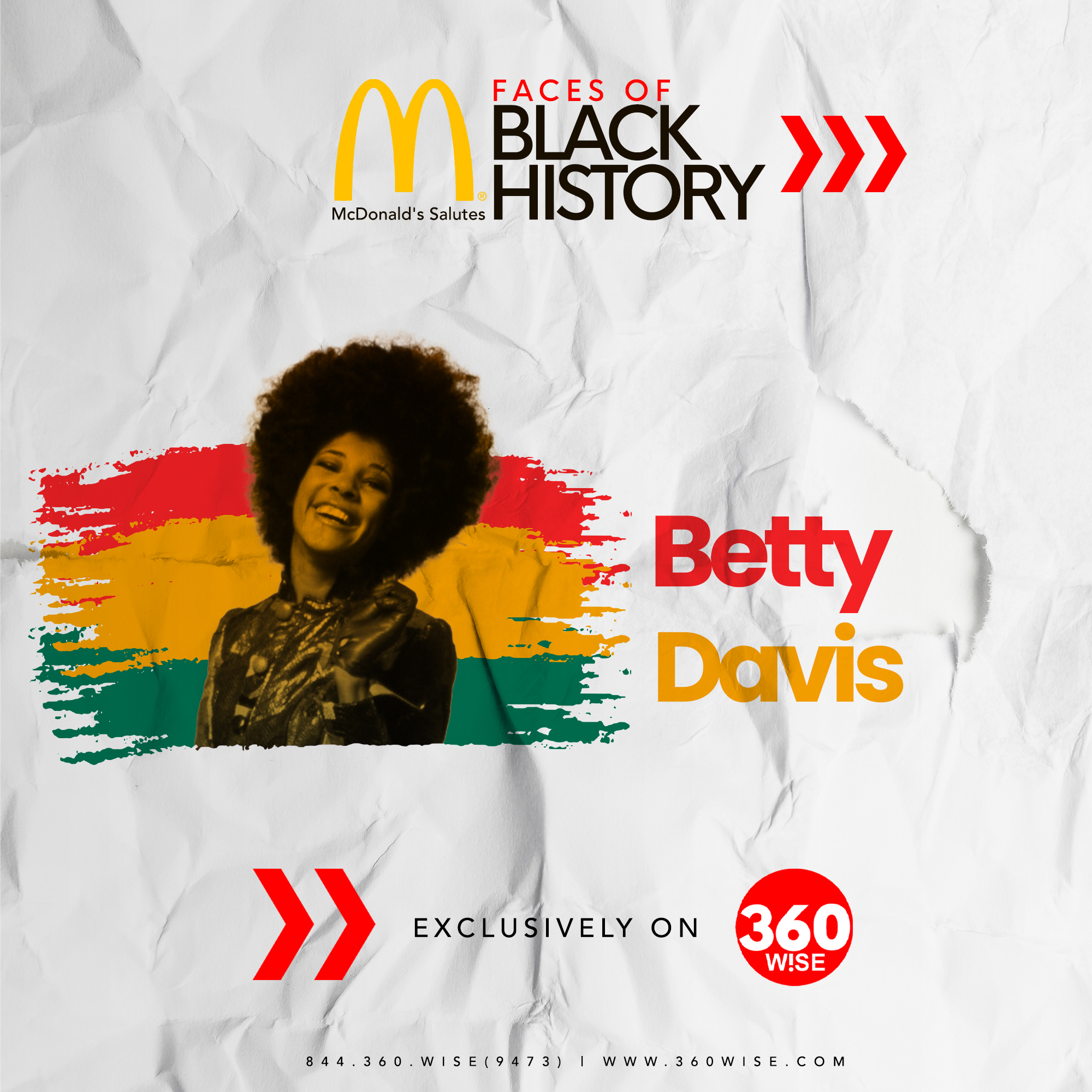 QUICK FACTS
born in Durham, North Carolina, on July 26, 1944

certified American singer, songwriter, and model by the RIAA
Thank you to the New York Tristate Owner and Operators Association for your continued support of the Black Community.
All featured faces of Black History are not captured in the 2023 theatre production.