About 360Wise®
360Wise is a social media marketing and branding agency that is revolutionizing the industry with its innovative approach to online marketing. Founded in 2008 by Robert & Tasha Alexander, 360Wise has become one of the most respected and successful social media marketing agencies in the world, working with high-profile clients in a variety of industries to help them build and grow their online presence.
At 360Wise, we believe that social media is a powerful tool for businesses and organizations of all sizes. With billions of people using social media platforms like Facebook, Instagram, and Twitter every day, the potential for businesses to connect with their customers, build brand awareness, and drive sales is greater than ever. However, navigating the ever-changing landscape of social media can be challenging, and many businesses struggle to create effective social media marketing strategies that deliver results.
That's where 360Wise comes in. We have a deep understanding of the social media landscape and are constantly staying up to date with the latest trends and best practices. This allows us to create customized social media marketing strategies that are tailored to each client's unique needs and goals.
We are known for our creative and innovative approach to social media marketing. We use cutting-edge technology and analytics to identify trends and insights that can be leveraged to create engaging and effective social media content. This helps our clients stand out from the competition and connect with their target audience in a meaningful way.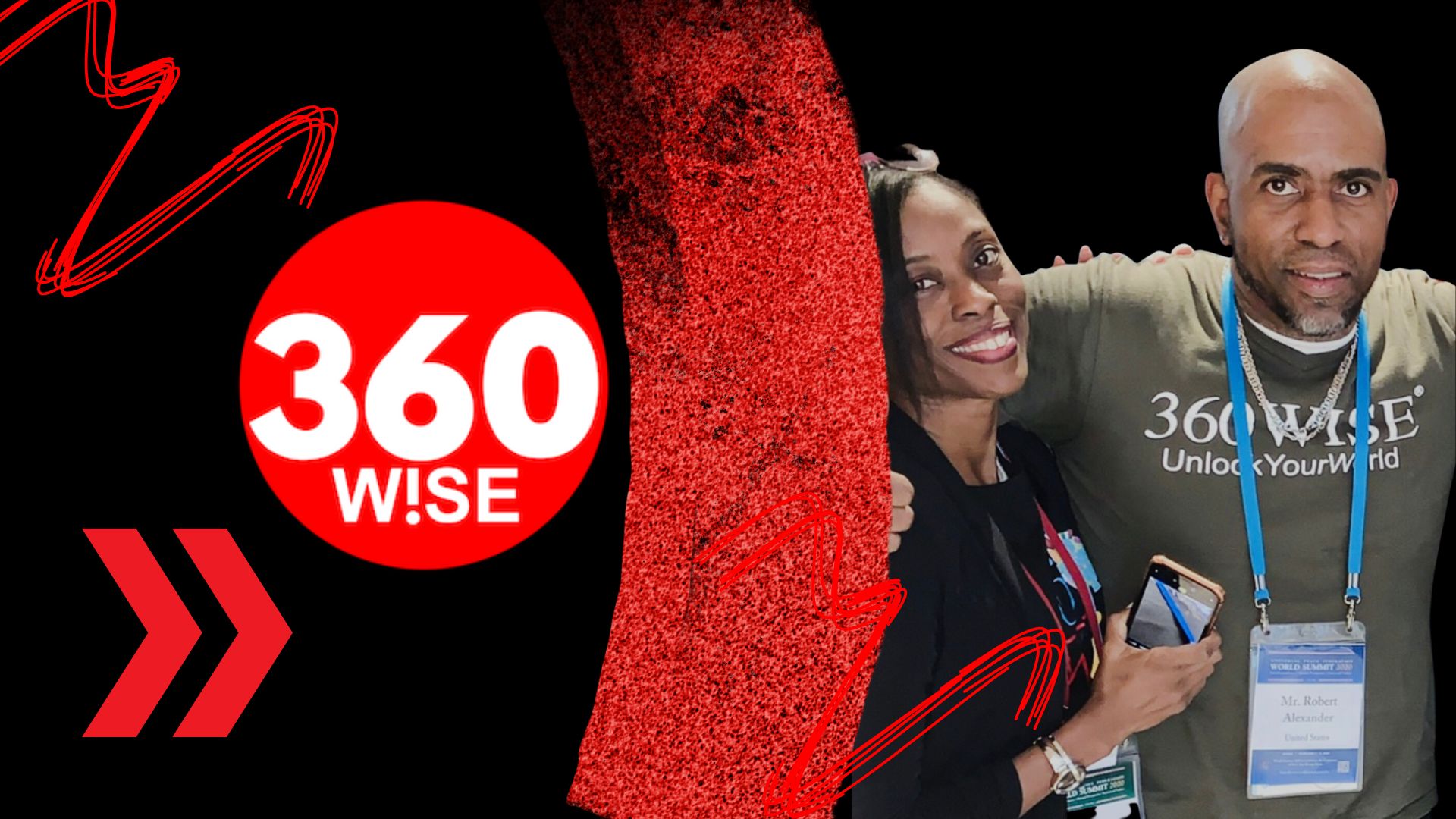 Tasha & Robert Alexander
Robert Walter Alexander ( Born September 16, 1970 ), better known by his trademarked brand name "360WiSE" is an American influencer, motivational speaker, civil rights advocate, and entrepreneur.
Born in New York and raised in the District of Columbia, Robert has overcome the type of adversities one would only see in motion pictured movie captions about the city life in the early '80s and '90s. 
Some may even think of his life as a fantasy or movie with scenes like Break Dancing and Rapping at a young age, promising himself, while watching  MC Hammer and Don King on tv that he would meet them and others in the entertainment industry one day.
Quote -"Everything is possible in life when you work hard towards your dreams of helping others succeed and maximizing fruitful relationships along the way."
Diversity and knowledge of self have always been the foundation for Robert growing up with a predominantly Indian and African American family history.
From catholic, and public school studies, to a campus walk-off from Hampton University, Robert became a master communicator with the gift of gab. He grasped early learning knowledge of online banking with portfolio checkups of current Roth and Traditional account holders of the world's first online banking system, E-Trade Bank.
Robert learned how to convert his gift of "Communication," into the fabric of his economic independence and livelihood, once he moved from the District of Columbia ( Wash, DC ) to sunny South Florida.
The introduction from concrete to palm trees came with a predestined introduction to his soon to be wife and mother of his 8 children Tasha Alexander.
Robert W. Alexander was on a sports and music industry trip with the fist sibling of Famed boxing legend Don King. It was with that meeting of his soon to be wife, at an event with Dr. Deborah King, in the entertainment district of Miami Fl, South Beach that Robert decided to relocate.
The music industry isn't all that it's cracked up to be, with direct relationships to major recording artist and professional boxers, it was then that Robert Alexander decided along with his wife Tasha Alexander, to create their own entertainment promotion company "Dreem Snacherz" with the mantra "If You Want Your Dream, Snatch It."
Quote " Brand building is a process that nurtures and sheds itself into different layers like a caterpillar, so you stop crawling and fly!"
Fast forward, Robert Alexander is known for his Social Media First, the approach of brand advertisement, that he and his wife infused within the building of the registered trademarked brand 360WiSE.
The 360WiSE brand has successfully built its place in the marketplace, with the advice and leadership of the Iconic board member, family, and friend Stanley Kirk Burrell aka, "MC Hammer."
360Wise Media is a Multi-National Company with operations in the Americas, Europe, Middle East, and Asia. They are ranked in the top 1% of Influence Brand marketing agencies for celebrities and public figures in the world.
Robert is also the President and CEO of the South Florida Miami chapter of the
Southern Christian Leadership Conference
. The Southern Christian Leadership Conference is an African-American civil rights organization. SCLC is closely associated with its first president, Martin Luther King Jr., who had a large role in the American civil rights movement.
The personal Iconic business, board member, and family relationship Robert has with America's appointed Black US Attorney General, Attorney Benjamin Crump, has created a non-ending fight for justice and equality of all colors, all cultures, and all creeds. It has become self-evident that brand marketing has become the introduction to much broader life skills such as community leadership.
The real-life movie script from growing up with a single mother, witnessing the horrible effects of inner city genocide and mass incarceration, to self-education and massive book reading and the studying of self, has lead into a full circle back to the passion Robert had at the beginning of his life journey, the arts. 
Robert proudly honors the newest position he has been appointed to enhance his desire and reach to help the masses and youth in particular. The capability of letting others understand that with hard work and strong desires to succeed independently in life, you can become a beacon of light for others.
It's a great honor to learn different verticals from other founders and CEOs like Matthew Everitt and the #1 NBC show ( brand ) that he built "World Of Dance," it's an honor be the "Director Of Leadership" for WODS World of Dance Studios, and once again, I look forward to expanding these Iconic relationships to collectively help create a better world for current and future generations, said Robert Alexander as he reflects on the footprints in the sand.
Quote: "When we reflect on the journey, only then can we fully appreciate the possibilities as we gain closer traction to that positive unknown destination."
At 360Wise, we are committed to transparency and accountability. We provide detailed analytics and reporting to our clients, so they can see exactly how their social media marketing campaigns are performing and make informed decisions about their marketing strategies. This level of transparency is rare in the industry and has helped us build a strong reputation for integrity and professionalism.
Our clients include local and international public figures, celebrities, musicians, athletes, and entrepreneurs. We have worked with White House initiatives, McDonald's, Red Bull, World of Dance, NFL player Antonio Brown, hiphop Icon MC Hammer, and civil rights Icon attorney Ben Crump, among others.
At 360Wise, our mission is to help our clients build and grow their online presence in ways that were once thought impossible. We are passionate about social media marketing, public relations and branding, and we are committed to delivering the best possible results for our clients.
The 360WiSE® brand is registered with the USPTO United States Patent Trademark Office along with the International Trademark Registration Extension of Protection to the European Union Intellectual Property Office. Please note that this protection is tied to the International Registration under the Madrid Protocol.
Brand Voice
The brand voice of 360WiSE is inclusive, empowering, and innovative, with a focus on multiculturalism and celebrating diversity. The communication style is confident and informative, while showcasing a genuine concern for helping clients achieve their goals. The language attributes are straightforward and professional, yet approachable and engaging. Overall, the brand persona of 360WiSE can be described as a trustworthy, reliable, and culturally-aware marketing expert driven to create meaningful connections and lasting success for clients.