THE MOMENT
Early Life and Career
Chadwick Aaron Boseman was born in 1976 in South Carolina and went on to attend Howard University in Washington, D.C., graduating with a Bachelor of Fine Arts in directing. (In 2018, he gave the commencement speech at Howard and received an honorary degree, Doctor of Humane Letters.) He then attended the British American Drama Academy in Oxford, England. Boseman has performed in a number of stage productions, including Breathe, Romeo and Juliet, Bootleg Blues, Zooman, and Willie's Cut and Shine. He won an AUDELCO award for his role as the teen E.J. in 2002's Urban Transitions: Loose Blossoms, a play by Ron Milner about a struggling African American family pulled in by the temptation of fast cash. He's also worked as part of the Hip Hop Theatre Festival and has written the plays Hieroglyphic Graffiti, Deep Azure and Rhyme Deferred. Additionally, he has directed a number of stage productions, as well as the short film Blood Over a Broken Pawn.
Personal Life
Boseman secretly married his longtime girlfriend Taylor Simone Ledward before his death. The pair became engaged in October 2019.
Starring Roles on TV
Boseman started to make a name for himself on TV in the mid-2000s, with guest spots on crime dramas like Third Watch and CSI: NY, and on the soap opera All My Children. Additionally, he was one of the performers for the award-winning audio version of the 2005 novel Upstate, by Kalisha Buckhanon.
In 2008 Boseman landed a recurring role as Nathaniel Ray on the ABC Family drama Lincoln Heights, which focused on a suburban family who relocates to the urban community where the police officer patriarch was raised. The series ran for four seasons, with Boseman featured during the last two. During this period, he also had guest-starring roles on ER, Lie to Me, The Glades and Cold Case.
Movies
The year 2008 also saw Boseman appearing in Gary Fleder's The Express, a sports biopic about renowned running back Ernie Davis, who played for Syracuse University during the civil rights era. The film co-starred Rob Brown and Dennis Quaid, with Boseman featured as fellow running back Floyd Little. Boseman would land his next prominent role as Graham McNair, a Muslim sergeant, on the 2010 NBC summer thriller Persons Unknown. On the series, seven people are kidnapped and trapped in a town by an unknown entity. The following year, Boseman landed additional guest spots on the shows Justified, Detroit 1-8-7, Fringe and Castle.
In 2012 Boseman played the lead role in the film The Kill Hole, directed by Mischa Webley. The indie production revolves around the life of a Portland, Oregon, taxi driver who's also an Iraq War veteran, haunted by memories of his past and drafted for a new mission by a private firm.
Playing Jackie Robinson in 42
Around the same time, Boseman won the lead role in the Jackie Robinson biopic 42, which tells the story of the legendary baseball player who broke racial barriers by becoming the first African American to play in the majors in the 20th century. The film, written and directed by Brian Helgeland, and co-starring Harrison Ford as Brooklyn Dodgers executive Branch Rickey, was released in 2013and co-starring Harrison Ford as Brooklyn Dodgers executive Branch Rickey, was released in 2013.
"I'm overwhelmed by it," Boseman told the online publication Madame Noire about his role as the baseball legend. "It's just a huge responsibility. I wake up every morning, been working and prepping on it, and I'm having the time of my life, playing baseball … studying footage. It's the opportunity of a lifetime to just do what I love." Movie audiences seemed impressed with all of Boseman's hard work on the project — the film earned $95 million in its initial release.
After his starring role in 42, Boseman's career continued to take off. He was named the Male Star of Tomorrow by the National Association of Theater Owners in February 2014. Boseman then appeared in the 2014 football film Draft Day, with Kevin Costner and Jennifer Garner.
Taking on James Brown in 'Get on Up'
Meanwhile, Boseman was working on another high-profile project: He signed on to portray music legend James Brown in Get on Up, a story that producer Brian Grazer had spent years trying to bring to the big screen. He was finally able to get the movie going with help from Mick Jagger.
Directed by Tate Taylor, Get on Up follows Brown through his personal struggles and successes. Boseman had to master the fast and furious footwork that the Godfather of Soul was famous for in the film. According to an interview with Moviefone.com, becoming James Brown was "a huge challenge" but also "a very intense and rewarding experience." Get on Up hit theaters in August 2014. Boseman next surfaced in Gods of Egypt (2016), playing Thoth, the god of wisdom. He then starred in the revenge thriller Message from the King, which premiered at the Toronto Film Festival later that year.
Black Panther
Also, in 2016, Boseman joined the Marvel Cinematic Universe with his appearance in the superhero ensemble blockbuster Captain America: Civil War. He played T'Challa, king of the African country of Wakanda, who becomes the powerful Black Panther.
Following a return to dramatic fare with Thurgood (2017), about a case early in the legal career of Justice Thurgood Marshall, Boseman was ready for his superhero closeup in Black Panther. The film not only shattered box office records upon its February 2018 release, raking in an estimated $218 million domestically over the four-day President's Day weekend, it went on to earn an Academy Award nomination for Best Picture. Boseman's Black Panther later rejoined Iron Man, Thor, Captain America and other Marvel cohorts on screen for Avengers: Infinity War (2018) and Avengers: Endgame (2019).
Having established his leading man chops, Boseman next starred in 21 Bridges (2019), as an NYPD detective on the hunt for two cop killers.
Death
Boseman passed away on August 28, 2020, from colon cancer. "It is with immeasurable grief that we confirm the passing of Chadwick Boseman," a statement posted on his social media accounts read. "Chadwick was diagnosed with stage III colon cancer in 2016 and battled with it these last 4 years as it progressed to stage IV. A true fighter, Chadwick persevered through it all, and brought you many of the films you have come to love so much."
"A true fighter, Chadwick persevered through it all, and brought you many of the films you have come to love so much," his family said in a statement. "From Marshall to Da 5 Bloods, August Wilson's Ma Rainey's Black Bottom and several more — all were filmed during and between countless surgeries and chemotherapy. It was the honor of his career to bring King T'Challa to life in Black Panther. He died in his home, with his wife and family by his side. "A memorial service was held in Malibu, California the following weekend.
Chadwick was immortalizing by his speech that he gave at his Alma Mater the historic Howard University. In the speech he emphasizes the importance of God's way of taking the road less traveled other than the more convenient way of life where there are many bumps and bruises along the way.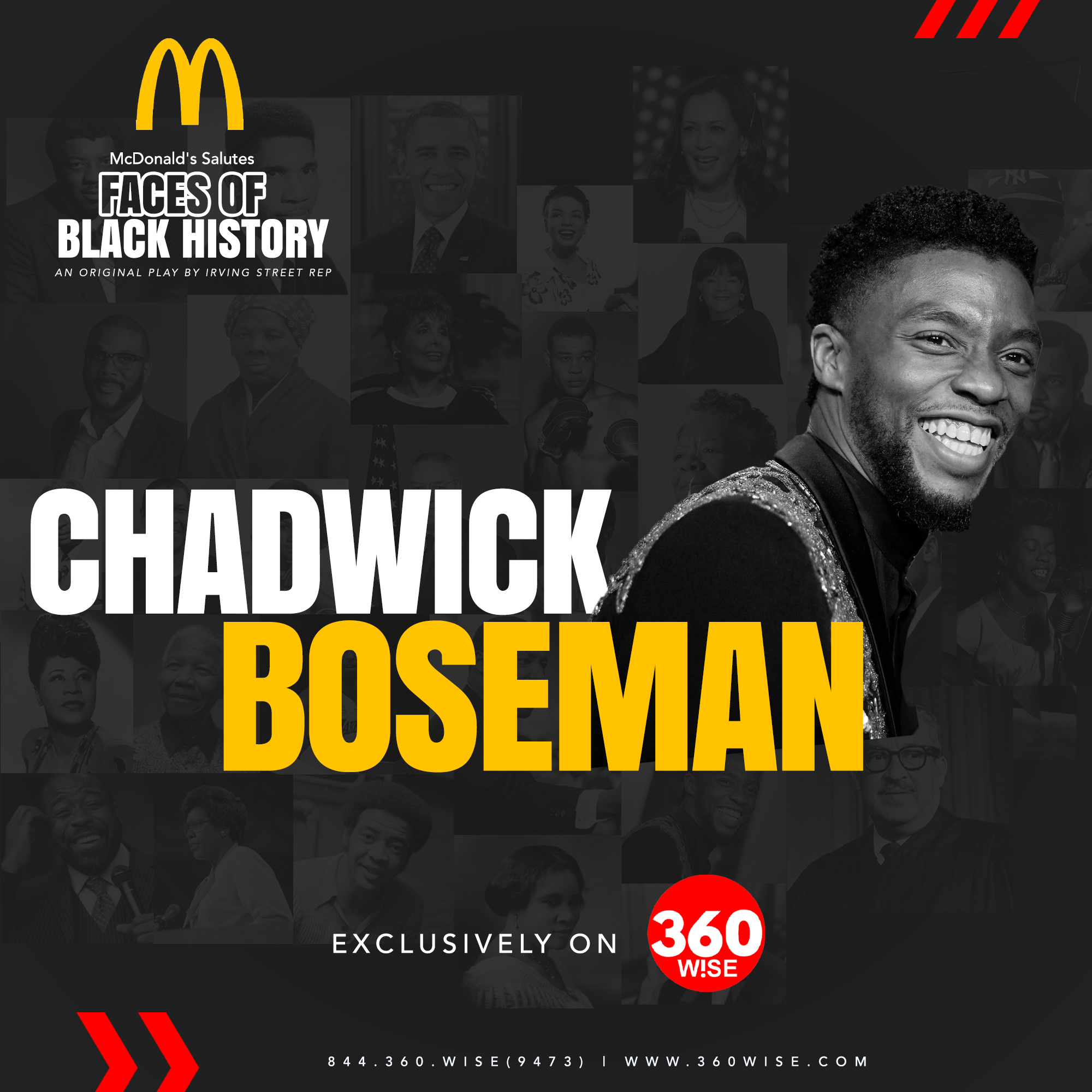 QUICK FACTS
Chadwick Aaron Boseman was born in 1976 in South Carolina

He attended Howard University.

He was the star of the movie Black Panther.
Thank you to the New York Tristate Owner and Operators Association for your continued support of the Black Community.
All featured faces of Black History are not captured in the 2022 theatre production.