THE MOMENT
Early Life
Born Henry Louis Aaron on February 5, 1934, in a poor Black section of Mobile, Alabama, called "Down the Bay," Hank Aaron was the third of eight children born to Estella and Herbert Aaron, who made a living as a tavern owner and a dry dock boilermaker's assistant.
Aaron and his family moved to the middle-class Toulminville neighborhood when he was 8 years old. Aaron developed a strong affinity for baseball and football at a young age and tended to focus more heavily on sports than his studies. During his freshman and sophomore years, he attended Central High School, a segregated high school in Mobile, where he excelled at both football and baseball. On the baseball diamond, he played shortstop and third base.
In his junior year, Aaron transferred to the Josephine Allen Institute, a neighboring private school that had an organized baseball program.
CAREER
In late 1951, 18-year-old Aaron quit school to play for the Negro American League's Indianapolis Clowns. It wasn't a long stay, but the talented teenager left his mark by hitting .366 and leading his club to victory in the league's 1952 World Series. Additionally, he would become the last to play in both the Negro Leagues and the Major Leagues.
After signing with the Milwaukee Braves for $10,000, Aaron was assigned to one of the organization's farm clubs, the Class C Eau Claire Bears. He did not disappoint, earning Northern League Rookie of the Year honors in 1952. Promoted to the Class A Jacksonville Braves in 1953, Aaron continued to tear apart pitching with 208 hits, 22 homers and a .362 average.
Aaron made his Major League debut in 1954, at age 20, when a spring training injury to another Milwaukee Braves outfielder created a roster spot for him. Following a solid first year (he hit .280 with 13 home runs), Aaron charged through the 1955 season with a blend of power (27 home runs), run production (106 RBIs) and average (.328) that would come to define his long career.
After winning his first batting title in 1956, Aaron registered an outstanding 1957 season, taking home the National League MVP and nearly nabbing the Triple Crown by hitting 44 home runs, knocking in another 132 and batting .322.
That same year, Aaron demonstrated his ability to come up big when it counted most. His 11th inning home run in late September propelled the Braves to the World Series, where he led underdog Milwaukee to an upset win over the New York Yankees in seven games.
With the game still years away from the multimillion-dollar contracts handed to star players, Aaron's annual pay in 1959 was around $30,000. When he equaled that amount that same year in endorsements, Aaron realized there could be more in store for him if he continued to hit for power. "I noticed that they never had a show called 'Singles Derby,'" he once explained.
He was right, of course, and over the next decade and a half, the always-fit Aaron banged out 30 to 40 home runs on an annual basis. In 1973, at the age of 39, Aaron was still a force, clubbing 40 home runs to finish the year with a career total of 713, just one behind Babe Ruth. In 1974, after tying Ruth on Opening Day in Cincinnati, Ohio, Aaron came home with his team. On April 8, he banged out his record 715th home run off Al Downing of the Los Angeles Dodgers. It was a triumph and a relief, as more than 50,000 fans on hand cheered him on as he rounded the bases. There were fireworks and a band, and when he crossed home plate, Aaron's parents were there to greet him.
After finishing his record-breaking 1974 season with 20 home runs, Aaron joined the Brewers in his old big league hometown of Milwaukee to take advantage of the new designated hitter rule that gave aging sluggers a chance to rest their legs. He played two more years, wrapping up his stellar career after the 1976 season.
As Aaron drew closer to home run No. 714, the chase to beat the Ruth's record revealed that world of baseball was far from being free of the racial tensions that prevailed around it. Letters poured into the Braves offices, as many as 3,000 a day for Aaron. Some wrote to congratulate him, but many others were appalled that a Black man should break baseball's most sacred record. Death threats were a part of the mix. Still, Aaron pushed forward. He didn't try to inflame the atmosphere, but he didn't keep his mouth shut, either, speaking out against the league's lack of ownership and management opportunities for minorities. "On the field, Blacks have been able to be super giants," he once stated. "But, once our playing days are over, this is the end of it and we go back to the back of the bus again."
Aaron, nicknamed "Hammerin' Hank," is widely regarded as one of the greatest players in the history of the sport. Over 21 years as an outfielder for the Milwaukee and Atlanta Braves and two final years as a DH for the Milwaukee Brewers, he compiled numerous records, including: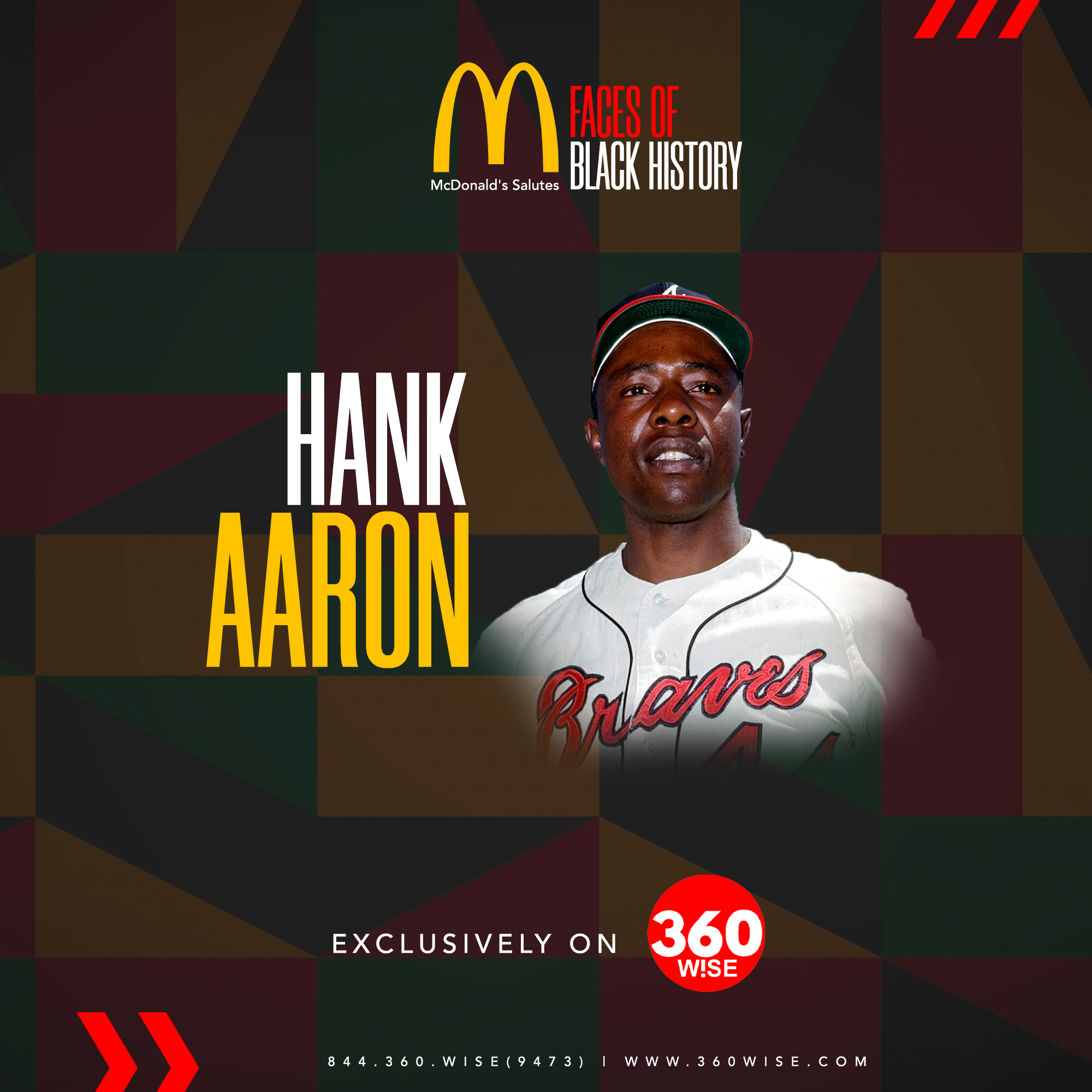 QUICK FACTS
Born Henry Louis Aaron on February 5, 1934

23 seasons as an outfielder for the Milwaukee and Atlanta Braves

In late 1951, 18-year-old Aaron quit school to play for the Negro American League's Indianapolis Clowns.

Aaron was elected to the Baseball Hall of Fame in 1982, and in 1999.

MLB established the Hank Aaron Award to annually honor the top hitter in each league.
Thank you to the New York Tristate Owner and Operators Association for your continued support of the Black Community.
All featured faces of Black History are not captured in the 2022 theatre production.