THE MOMENT
Early Life
Born Melvin Peebles in 1932 on the south side of Chicago, he added the "Van" later. His father was a tailor, and, starting at the age of ten, he worked in his father's shop most of the time he wasn't in school. He later told an interviewer that his long hours in the shop "didn't give me a work ethic as much as it gave me a work routine. It's just something you do; you don't even think about it."
After graduating from high school in Chicago in 1949, Van Peebles attended West Virginia State College, then transferred to Ohio Wesleyan University, where he graduated with a bachelor of arts degree in 1953. Van Peebles then joined the Air Force and was a flight navigator on a B-47 bomber for three years.
After leaving military service, Van Peebles briefly lived in Mexico, where his son Mario was born. He next moved to San Francisco and got a job driving cable cars. In his spare time, he did paintings and wrote short stories. On the advice of a friend, Van Peebles turned a story about driving a cable car into a movie. Teaching himself film techniques, he made several short films: Sunlight, A King, and A Pick Up for Herrick. Though he had no musical training, he wrote his own soundtracks and played them on a kazoo.
Van Peebles took his films to Hollywood, hoping they would open doors, but instead he was offered jobs as an elevator operator and a dancer. His dreams dashed, Van Peebles decided to pursue a doctoral degree in astronomy, his other love. He moved to Holland and took graduate courses in astronomy while also studying at the Dutch National Theatre.
Contacted by movie lovers in France who had seen and liked his short films, he quit astronomy and moved to Paris but at first found no backers to make movies. He began doing street performances, playing his kazoo and singing and dancing for coins. Because he was unlicensed, he sometimes got arrested for begging. Eventually he became editor of a humor magazine and began writing novels. Between 1964 and 1967 he had five novels published.
With a $70,000 grant from the French Cinema Center, he adapted his novel La Permission for the screen and filmed it as The Story of a Three-Day Pass. A saga about a romance between a black American soldier and a young white French woman, it was released in 1968 and submitted as the French entry in the San Francisco Film Festival.
CAREER
The Story of a Three-Day Pass brought Van Peebles attention in Hollywood and an opportunity to direct Watermelon Man for Columbia Pictures. Watermelon Man was the story of a white bigot who turns into a black man. It was the first time an African American had directed a mainstream Hollywood feature. The studio wanted Van Peebles to shoot alternate endings—one in which the protagonist becomes a black militant, and another in which he wakes up and discovers it was all a dream. Van Peebles intentionally "forgot" to shoot the second ending so that the first would have to be distributed.
With his salary from that film and a $50,000 loan from Bill Cosby, Van Peebles financed an independent production that set the film industry on its ears. His often scatological, rude and unabashed Sweet Sweetback's Baadasssss Song caused a sensation. Van Peebles not only wrote, produced, edited and directed the film, he composed its score and played the starring role. It was shot in 19 days in the Watts section of Los Angeles. The story of a pimp and street hustler who turns into a revolutionary leader and fights back against police brutality, the film was a favorite of Black Panther Party leader Huey Newton. Brash and vulgar, it included Van Peebles's ten-year-old son Mario in an explicit sex scene.
Sweetback was given an X rating. Van Peebles fought back, making T-shirts that read "Rated X By an All-White Jury." After theater owners deleted controversial scenes, he brought a federal lawsuit to get the film restored to its original form. The notoriety over the "X" rating only increased the film's popularity.
Critic Laurence Kardish recalls that the film "wore its X rating like a badge of honor and swept through urban theaters like a house on fire. It proved at once there was an enormous audience for independent films, ones where blacks did something they had not done in earlier American films: fight back. Sweetback is the first American film with a black protagonist who refuses to adapt to the daily humiliations of racism."
Though slammed by many critics, the film was a big hit and led to a spate of "blaxploitation" movies, films in which Hollywood trafficked in lowbrow African American humor, sex and violence. Within two years after the release of Sweetback, Hollywood released dozens of such movies. Suddenly there were numerous roles for black actors, and opportunities for black producers and directors in the film industry.
"Blaxploitation would not have taken place without the huge financial success of Sweetback," Van Peebles told Julie Dash for Interview magazine. "The formula of Sweetback was preempted—taken and perverted and watered down and used in a counterrevolutionary way." Van Peebles told the web site Motorbooty: "Hollywood wanted the money but they didn't want the political implications, so [they] took the more cartoonish elements and pushed them."
Documentary filmmaker Saint Clair Bourn said of Sweetback: "He made a film in Hollywood that a lot of black people came to see, and Hollywood saw that there was an audience that they didn't know about and used his model. They took out the politics, they took out the music, and made a bunch of films based on what he started." The film was also notable for its topical soundtrack, which introduced the jazz-funk group Earth, Wind, and Fire backing Van Peebles's own rapping.
faces-of-black-history-melvin-van-peebles
Van Peebles became an instant hero in the African American artistic community. Without compromising his integrity, he had made a Hollywood box office hit and opened doors. "Melvin was our living legend" in the 1970s, wrote Dash in an Interview. "He was one of few black directors whose movies were getting released." He inspired an entire generation of black filmmakers, including Spike Lee and John Singleton, whose movies of the 1980s and 1990s owed a debt to Sweetback's gleeful barrier-smashing.
Staging benefit concerts for the Black Panthers and making his mark as an independent auteur of the stage and screen, Van Peebles defied every stereotype. While others wore Afros, he sported a ponytail. He launched a parallel career as a spoken word recording artist. In all, he created nine albums, including five solo efforts. His performances were accompanied by suites for violin or cello, free-form pieces Van Peebles often wrote himself.
Many music critics credit him with being a pioneer of rap music, starting with his groundbreaking 1968 recording Brer Soul. A series of rhythmic monologues about urban life, the album was a form of storytelling done to jazz-based soul music and gospel influences. "I found it necessary to invent a style," Van Peebles explained later. "I decided to sublimate the orchestration, to minimize it so people would be forced to concentrate on the words." In another interview, he said: "My music didn't fall into the format of gospel or blues or spirituals, so I did another form that suited the music and story: talk-rapping, which eventually became rap." An interviewer for Motorbooty characterizes Van Peebles's albums as "theatrical vignettes, hysterical monologues, and lyrical soliloquies, all delivered in a gruff, tone-deaf bark that sounds like a drunken, funky uncle."
In whatever endeavor he pursued, Van Peebles always insisted on artistic control. He wrote and staged two Broadway shows, Ain't Supposed to Die a Natural Death, in 1971 and Don't Play Us Cheap: A Harlem Party, a 1972 Gospel-influenced musical. Van Peebles made Don't Play Us Cheap into a film in 1973, and it won first prize at the Belgian Film Festival.
Throughout his career, Van Peebles experimented with many forms of expression. In the 1970s, he released the albums As Serious As a Heart Attack and What the —You Mean I Can't Sing? He helped write the script for the film Greased Lightning, released in 1977. In the late 1970s, Van Peebles wrote scripts for television, including the pilots Sophisticated Gents and Just an Old Sweet Song. In 1984, he wrote and produced the off-Broadway musical The Champeeen.
Van Peebles continued to confound expectations. In the 1980s he made a brief foray into Wall Street and then wrote a successful book about investing and stock market trading, Bold Money.
In 1989, with his son Mario Van Peebles, he directed, produced and co-starred in the film Identity Crisis. The father-son team wrote the book No Identity Crisis to chronicle the making of the film. Van Peebles had roles in such films as True Identity in 1991, Boomerang in 1992, Posse in 1993, Terminal Velocity in 1994, Panther in 1995, and Smut and Time of Her Time in 1999. Panther was based on a novel Van Peebles was writing about the Black Panther Party. At the urging of his son, he turned it into a screenplay, and his son directed the film. Though many critics said it overly romanticized the militant group, American Visions called it a "truly inspirational film that illumines a history that hasn't been taught to young people. "
In 1998, Van Peebles narrated and starred in a documentary film Melvin Van Peebles' Classified X, about the history of images of African Americans in Hollywood films. Shot in video, it was made originally for Euro TV.
His spoken-word recording Cruel Jim Crow (Posse Don't Play That) was included in the soundtrack of Posse. In 1995, Van Peebles made a musical comeback with his first album in 20 years, Ghetto Gothic . Backed by chamber music, Van Peebles spun musical tales based on topical issues like spousal abuse. He also became host of National Public Radio's weekly Blue Stage program. In 1998, he toured with a cabaret show entitled Melvin Van Peebles' Roadkill Wid' Brer Soul.
His collaborations with his son were notable for their uncompromising politics. In 1996, they co-created a made-for-TV movie, Gang In Blue, about a white supremacist police group, in which each man appeared. The film was based on real gangs of racist cops in several American cities. With his son, he produced another made-for-cable-TV movie, Riot, which examined the 1992 Los Angeles riots from four different perspectives.
In 1997, Stephen King produced his own television mini-series based on his book The Shining, and Van Peebles played the psychic hotel cook who befriends a clairvoyant child. In 2000, Van Peebles released Bellyful . Written 30 years earlier, the film was financed in Europe and shot in France. It is about a white French couple who adopt a child at an orphanage, not realizing the child is of mixed racial ancestry.
Whatever the medium, Van Peebles refused to compromise. "People often say I'm brave or insightful, but I'm just ornery," he told Billboard magazine in 1995. "I really do most stuff like I cook: I cook what I like because no one else does it."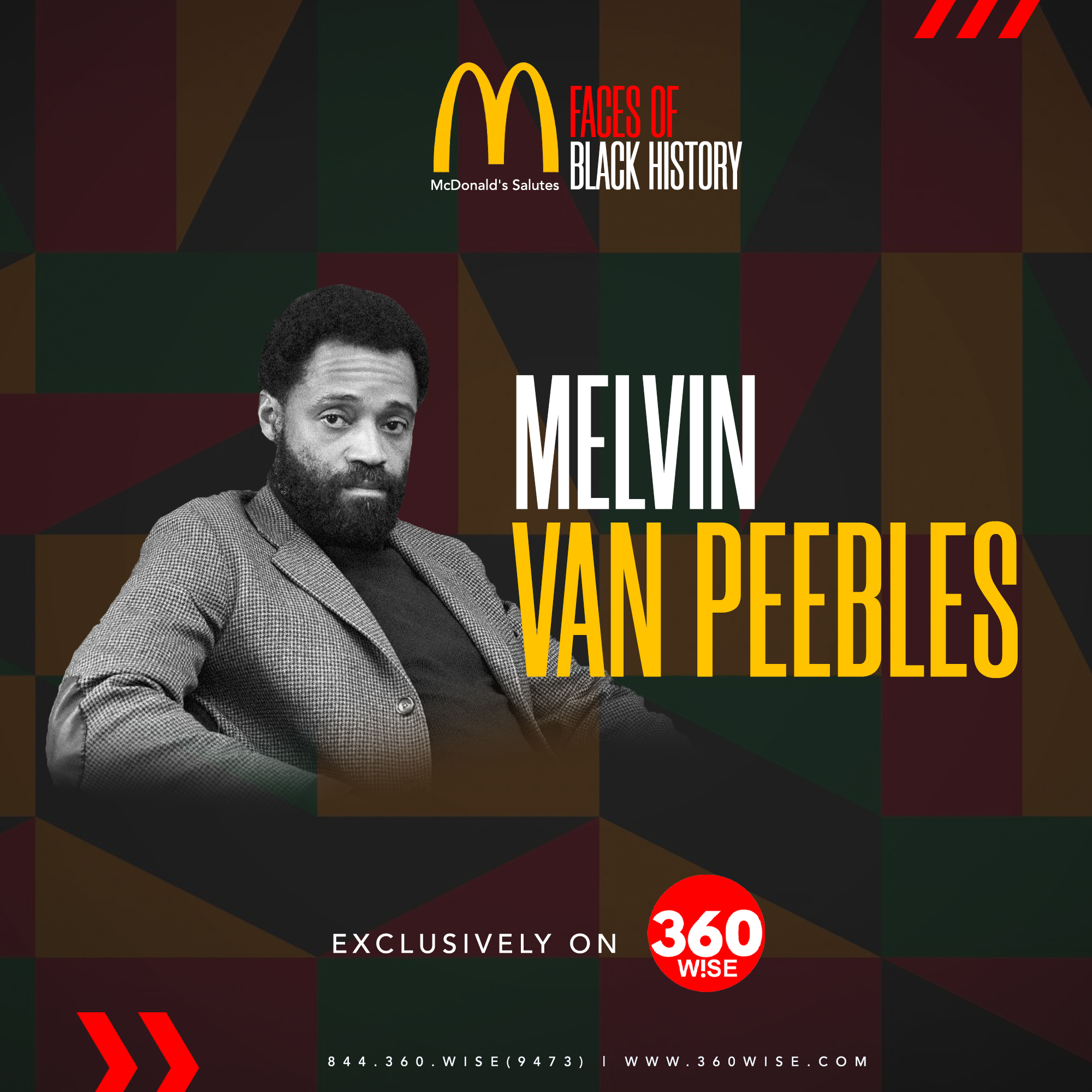 QUICK FACTS
"The Godfather of Modern Black Cinema"

Born Melvin Peebles in 1932 on the south side of Chicago.
QUOTES
"Through thickest gloom look back, immortal shade, On that confusion which thy death has made."
—Phillis Wheatley
Thank you to the New York Tristate Owner and Operators Association for your continued support of the Black Community.
All featured faces of Black History are not captured in the 2022 theatre production.
Multi-talented and prolific, Melvin Van Peebles (born 1932) paved the way for modern African American filmmakers and rap artists. Called because of his controversial 1970 film, Sweet Sweetback's Baadasssss Song, Van Peebles also wrote novels, wrote and produced Broadway musicals and TV shows, acted for film and television, and released several spoken-word albums in which he helped invent what later became known as rap music.