THE MOMENT
Early Life
The 10th of 12 children, Shirley Caesar was born October 13, 1938. Her father James was a tobacco worker who was well-known in the Carolinas as the lead singer in a gospel quartet, the Just Came Four. Shirley began singing with the group at age ten. When she was twelve, her father died, and she began touring with an evangelist named LeRoy Johnson, who also had a television show in Portsmouth, Virginia. In 1951, at thirteen, she recorded her first song "I'd Rather Have Jesus." While still in high school, she toured throughout the Carolinas.
This was a time when Jim Crow laws were still in effect in North Carolina. Shirley remembers restaurants putting up the CLOSED sign when she would arrive. "I went to school in the days when all the white kids got things better," she told People, "I remember once when a lady gave cookies to all the kids in the state. The white kids got the fresh ones; we got the stale ones." Despite these obstacles, her beloved mother Hannah taught her to respect herself and to persevere.
Hearing God's Voice
Her determination took her to North Carolina Central College where she studied business education. She has said that she got the call to God's work in the middle of a typing test. According to Kim Hubbard of People, Shirley heard someone call out her name. Shirley turned to the young woman next to her and asked if she had spoken. When Shirley went home, she lay on the bed, and heard the same voice: "Behold, I have called you from your mother's womb and I have anointed your lips to preach the gospel." Shirley believed that this was a message that foretold special work for her in spreading the gospel. Around the same time, Shirley heard Chicago's female gospel group, the Caravans, and she saw an opportunity to answer the call.
She sought an audition with the group, was immediately hired, and left school for a life of singing and ministry.
Her Singing Ministry
The Caravans had several members who became famous in the history of gospel music: Albertina Walker, Inez Andrews, and Sarah McKissick. Each woman had a different style and Shirley's contribution was an energetic and dramatic approach where she would act out the songs and walk among the congregation, engaging the members directly.
On the song "I Won't Be Back" she would run through the hall searching for an exit, then leave for a brief period. Her forte was the sermon in the middle of songs that addressed the subject of the song and expounded on its theme. She exhorted the listeners to reach out to God and to take the example of Jesus. On the subject of motherhood, she was particularly effective. Her song "Don't Drive Your Mama Away" tells of a son who is shamed for putting his mother in the rest home.
Along the way, Shirley found a male counterpart in the singer James Cleveland and they made several records together. They became known as the "King and Queen of Gospel."; Shirley formed her own group in 1966 called the Caesar Singers, but she would reunite with the Caravans and the Reverend Cleveland occasionally throughout the years. In 1971, she won her first Grammy, for the popular song "Put Your Hand in the Hand of the Man from Galilee." On the night of the awards, she had returned very late from an engagement in Homer, Louisiana. People began banging on her door, and when she eventually answered, her sister Ann, one of her backup singers, shouted "You won!"; It was the first Grammy for a black female gospel singer since Mahalia Jackson. Shirley went on to win the award again in 1980, 1984, 1985, 1992 and 1994, plus five more throughout her career, for an astonishing total of 12 Grammys and counting.
Accolades and Honors
Among her numerous other honors are 18 Dove Awards, the Gospel Music Association's highest tribute. She was inducted into the Gospel Hall of Fame in 1982. She was the first female gospel artist to perform at Harvard University.
Shirley Caesar has also moved into other media, making several videos: Live in Memphis, I Remember Mama, and He Will Come. Broadway found that the gospel singer could conquer a big city when Shirley packed them in for the musical Mama I Want to Sing (1994). Her second Broadway musical in 1995 was titled Sing: Mama 2 and her third in 1996 was titled Born to Sing! Mama 3. Perhaps her proudest achievement was the creation of a ministry in Durham to provide emergency funds, food and shelter for the needy, the Shirley Caesar Outreach Ministries. When Shirley ran for public office and was elected to the Durham City Council in 1987, she concentrated her efforts on housing and care for the poor and elderly.
Caesar went into the studio to help recording artist Bishop T.D. Jakes with his album, Woman, Thou Art Loosed. The album, recorded live at Jakes' national
conference in New Orleans, was released in the summer of 1997. Her biggest fan, the Rev. Harold I. Williams, whom Shirley has called "my pastor, my best friend, my husband," assessed his wife's character in the 1995 video He Will Come: "After twelve years, I'm going to say the same thing I said after the first year I was married to Shirley: exciting! You never know what is coming next. I mean it is exciting. It is from one thing to another. She's an exciting person. She's a joy to be around."
Life and Legacy
In addition to a recording career and a decades-long touring schedule, Caesar has also appeared on-stage, and in film and television. She starred in the gospel musical Mama, I Want to Sing, including both of its sequels. She also appeared in the movies The Fighting Temptations and Why Do Fools Fall in Love, as well as the TV show The Parkers.
In 2016, a clip from her performance of the song "Hold My Mule" went viral. In turn, this shot "Hold My Mule" straight to the top of Billboard's Hot Gospel Songs, her first number one hit in that category. Caesar's Grammy collection may not be finished growing. In 2016, she was nominated for two Grammys, one for her album Fill This House and one for her song "It's Alright. It's OK." Also, in 2016, the Recording Academy honored Caesar with the Lifetime Achievement Award for her decades-long contributions to the recording industry.
Through all her accomplishments and accolades, Caesar never stopped serving as a pastor at Mount Calvary Word of Faith Church in Durham, NC. Her husband also served there until his passing in 2008. She continues to champion her Outreach Ministry program, serving the neglected and those in need in her community. She's famously quoted as saying, "I cannot sweeten the Atlantic Ocean, but I can take a pitcher out of the ocean and sweeten that."
Caesar will continue to spread the gospel for as long as she walks the Earthand, without doubt, her gifts to humanity will live on forever.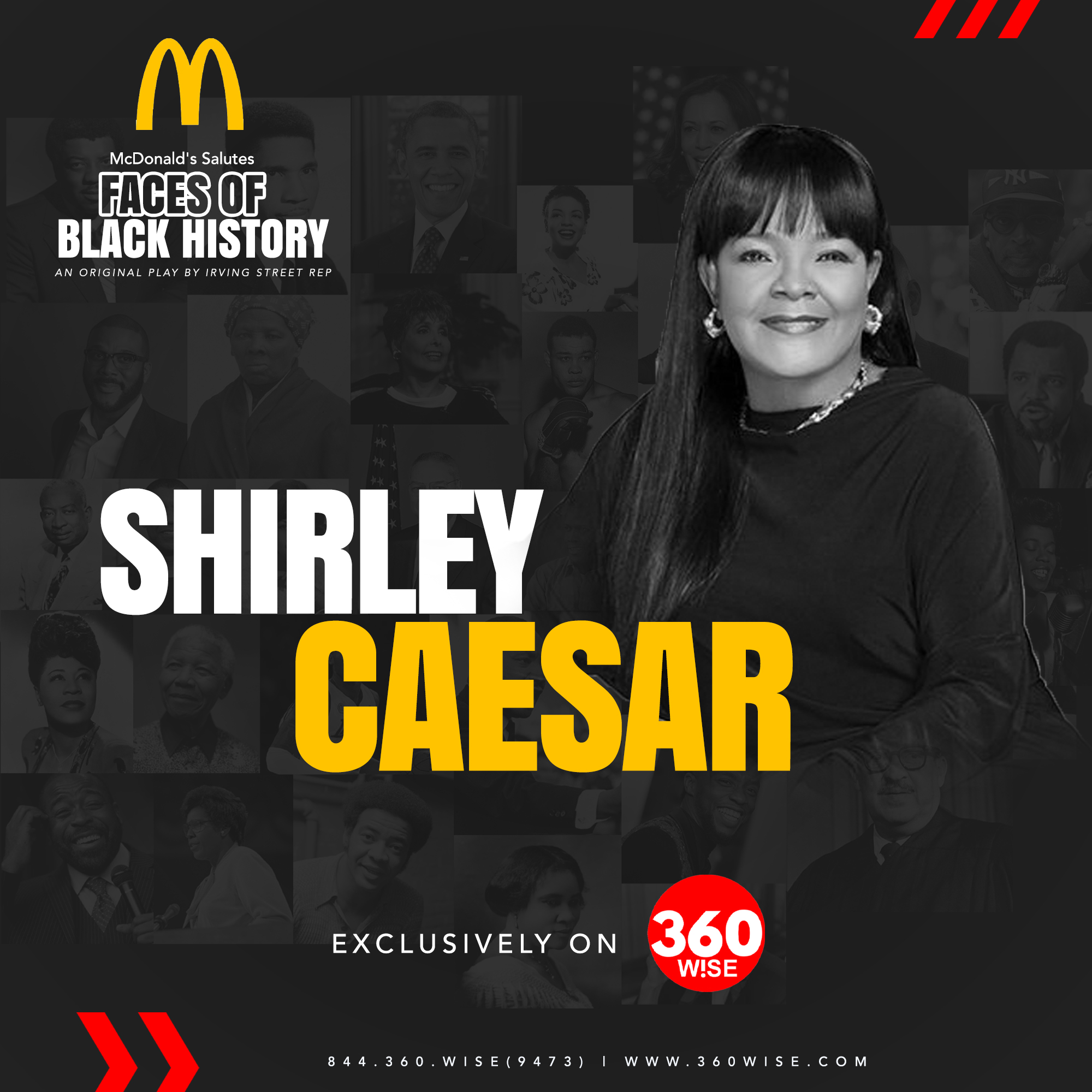 QUICK FACTS
Shirley Caesar was born October 13, 1938.

Her determination took her to North Carolina Central College where she studied business education.

She was inducted into the Gospel Hall of Fame in 1982.
Thank you to the New York Tristate Owner and Operators Association for your continued support of the Black Community.
All featured faces of Black History are not captured in the 2022 theatre production.