THE MOMENT
Early Life
Tupac was born on June 16, 1971, in Harlem, New York. His mother, Afeni, was raising two children on her own and struggled for money. The family moved homes often, sometimes staying in shelters.
They moved to Baltimore, where Tupac enrolled at the prestigious Baltimore School for the Arts, at which he felt "the freest I ever felt."
Tupac was named Lesane Parish Crooks at birth. After joining the Black Panther party, his mother changed his first name to Tupac Amaru, a Peruvian revolutionary who was killed by the Spanish. Tupac later took his surname from his sister's Sekiya's father, another Panther called Mutulu Shakur.
Tupac's mother, Alice Faye Williams, was the daughter of a North Carolina maid and a high-school dropout. She became pregnant with Tupac in 1970 while on bail after being charged with conspiring to set off a race war. Afeni was acquitted the following year after successfully defending herself in court, displaying a gift for oration that her son would inherit.
She changed her name to Afeni Shakur after becoming actively involved with the Black Panther Party. Afeni died in May 2016 at the age of 69.
Tupac's father, Billy Garland, was also a Panther but lost contact with Afeni when Tupac was five years old. The rapper would not see his father again until he was 23. "I thought my father was dead all my life," he told the writer Kevin Powell during an interview with Vibe magazine in 1996. "I felt I needed a daddy to show me the ropes and I didn't have one."
Afeni gave birth to a daughter, Sekiya, two years after Tupac. However, Sekiya's father, Mutulu Shakur, did not stick around, either.
Tupac met actress Jada Pinkett-Smith in high school at the Baltimore School for the Arts in Maryland. She had a cameo in his music video for 'Strictly 4 My Niggaz.'
Pinkett-Smith was featured in the 2017 movie on Tupac All Eyez on Me. She later told reporters that she was a drug dealer when she met Tupac and that she found the "reimagining" of their relationship in the film "very hurtful."
"It wasn't just about, oh, you have this cute girl, and this cool guy, they must have been in this — nah, it wasn't that at all. It was about survival, and it had always been about survival between us," she said.
ENTERTAINMENT CAREER
Tupac's Baltimore neighborhood was riven by crime, so the family moved to Marin City, California. It turned out to be a "mean little ghetto," according to Robert Sam Anison's comprehensive posthumous feature on Tupac for Vanity Fair in 1997. It was in Marin City that Afeni succumbed to crack addiction — a drug her son, Tupac, would sell on the same streets where his mother bought her supply.
Tupac's love for hip hop would steer him away from a life of crime (for a while, at least). At 17, in the spring of 1989, he met an older white woman, Leila Steinberg, in a park. They struck up a conversation about Winnie Mandela. Steinberg would later recall "a young man with fan-like eyelashes, overflowing charisma, and the most infectious laugh."
By the time they met, Tupac was obsessively writing poetry and convinced Steinberg, who had no music-industry experience, to become his manager.
Steinberg was eventually able to get Tupac in front of music manager Atron Gregory, who secured a gig for him in 1990 as a roadie and dancer for the hip hop group Digital Underground. He soon stepped up to the mic, making his recording debut in 1991 on Same Song, which soundtracked the Dan Aykroyd comedy Nothing but Trouble. Tupac also appeared on Digital Underground's album Sons of the P in October that year.
After the band's manager, Gregory, took over from Steinberg, he landed Tupac a deal with Interscope Records. A month after Sons of the P hit the stores came 2Pacalypse Now, Tupac's debut album as a solo artist.
Tupac often complained that he was misunderstood. "Everything in life is not all beautiful," he told journalist Chuck Phillips. "There is lots of killing and drugs. To me a perfect album talks about the hard stuff and the fun and caring stuff. … The thing that bothers me is that it seems like a lot of the sensitive stuff I write just goes unnoticed."
LIFE CHALLENGES
In August 1992, Tupac was attacked by jealous youths in Marin City. He drew his pistol but dropped it in the melee. Someone picked it up, the gun fired, and a 6-year-old bystander, Qa'id Walker-Teal, fell down dead.
While Tupac was not charged for Walker-Teal's death, he was reportedly inconsolable. (In 1995, Walker-Teal's family brought a civil case against Tupac, but settled out of court after an unnamed record company — thought to have been Death Row — offered compensation of between $300,000 to $500,000.)
In October 1993, Tupac shot and wounded two white off-duty cops in Atlanta — one in the abdomen and one in the buttocks — after an altercation. However, the charges were dropped after it emerged in court that the policemen had been drinking, had initiated the incident and that one of the officers had threatened Tupac with a stolen gun.
The case illustrated the misrepresentation of African American males, and the attitude of some police toward them, which Tupac had been talking about in his music. What was portrayed as gun-toting "gangster" behavior by a lawless individual turned out to be an act of self-defense by a young man in fear of his life. All the while, Tupac's star continued to rise.
Tupac did go to jail for 15 days in 1994 for assaulting the director Allen Hughes, who had fired him from the set of the movie Menace II Society for being disruptive.
Before Tupac released his third album, there was more trouble. In November 1994, he was shot multiple times in the lobby of a Manhattan recording studio, Quad, by two young Black men.
Tupac believed his rap rival Biggie Smalls was behind the shooting, for which nobody has ever been charged. (Smalls always denied he knew anything; in 2011 Dexter Isaac, a New York prisoner serving a life sentence for an unrelated crime, claimed he was paid to steal from Tupac by the artist manager and mogul James "Henchman" Rosemond, and shot the rapper during the robbery).
In June 1996, Tupac released a diss track, "Hit 'Em Up," aimed at Biggie Smalls and his label boss at Bad Boy Records, Sean "Diddy" Combs— ratcheting up the tension between East and West Coast rap. Their rivalry was fast becoming hip hop's most famous — and ugliest — beef. Within three months, Tupac was murdered.
Rape Charges Against Tupac
In February 1995, Tupac was sentenced to between one and a half and four and a half years of jail time for sexually abusing a female fan. The case related to an incident that had taken place in Tupac's suite in the New York Parker Meridien hotel in November 1993.
Tupac maintained that he had not raped the girl, although he confessed to the Vibe magazine journalist Kevin Powell that he could have prevented others who were present in the suite at the time from doing so. "I had a job [to protect her]," he said, expressing his sorrow, "and I never showed up."
DEATH ROW RECORDS
While Tupac was in prison on rape charges, he was visited by Suge Knight, the notorious label boss of Death Row records. Knight offered to post the $1.3 million dollar bail Tupac needed to be released pending his appeal. The condition was that Tupac sign on to Death Row. Tupac duly signed. He was released from the high-security Dannemora facility in New York in October 1995.
At the same time as he was glorifying an outlaw lifestyle for Death Row, Tupac was financing an at-risk youth center, bankrolling South Central sports teams, setting up a telephone helpline for young people with problems — all noted in Robert Sam Anson's Vanity Fair article, published after Tupac's death.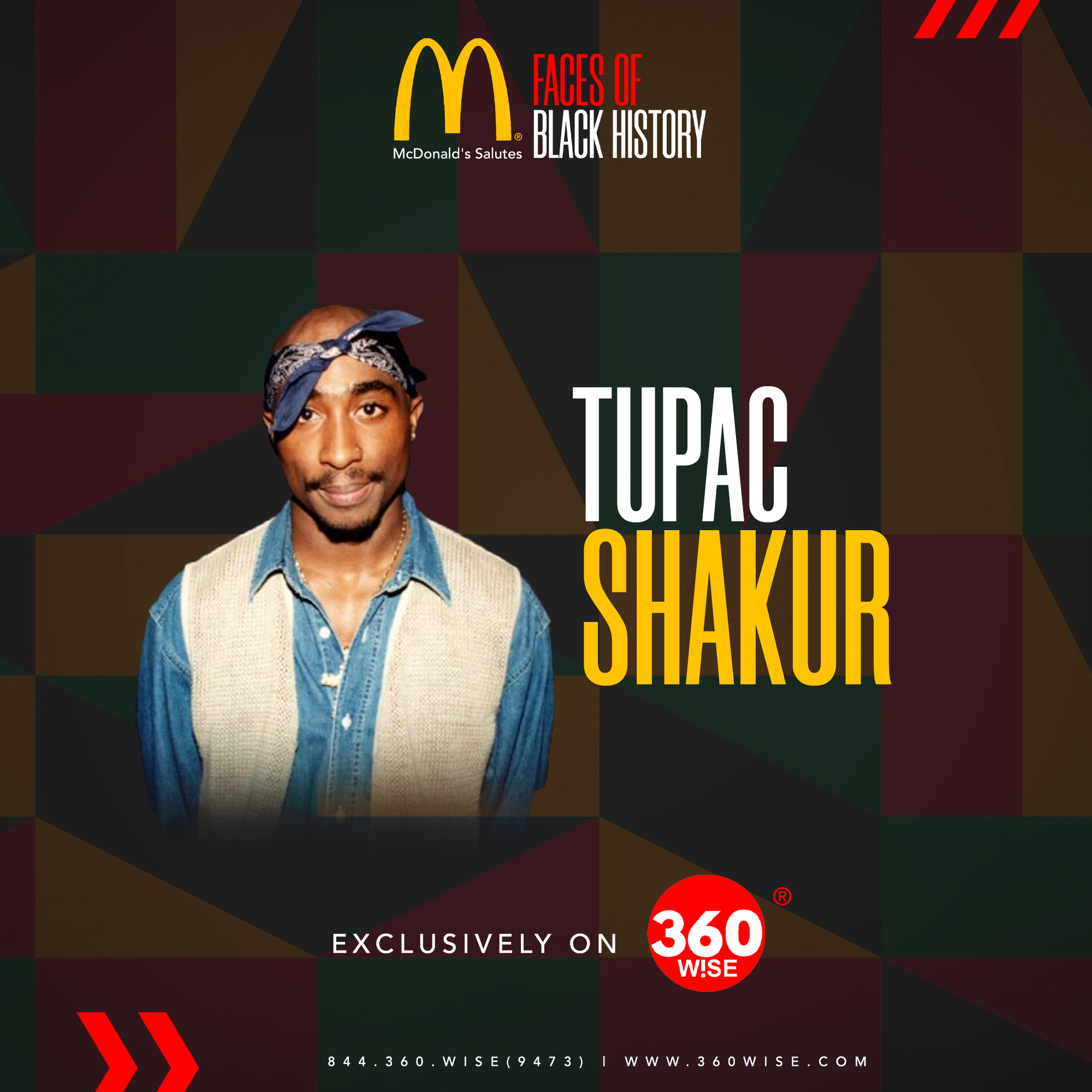 QUICK FACTS
born on June 16, 1971, in Harlem, New York.

Tupac Shakur was an American rapper and actor who came to embody the 1990s gangsta-rap aesthetic,

Tupac Shakur's parents were both members of the Black Panther Party.

At 13 Tupac played Travis Younger in 'A Raisin in the Sun' at the Apollo Theater.

Tupac has released a total of 11 platinum albums

He has sold 75 million albums to date, making him one of the top-selling artists of all time.•
Thank you to the New York Tristate Owner and Operators Association for your continued support of the Black Community.
All featured faces of Black History are not captured in the 2022 theatre production.