Black Americans Have a Clear Vision for Reducing Racism but Little Hope It Will Happen
More than a year after the murder of George Floyd and the national protests, debate and political promises that ensued, 65% of Black Americans say the increased national attention on racial inequality has not led to changes that improved their lives.1 And 44% say equality for Black people in the United States is not likely to be achieved, according to newly released findings from an October 2021 survey of Black Americans by Pew Research Center.
This is somewhat of a reversal in views from September 2020, when half of Black adults said the increased national focus on issues of race would lead to major policy changes to address racial inequality in the country and 56% expected changes that would make their lives better.
At the same time, many Black Americans are concerned about racial discrimination and its impact. Roughly eight in ten say they have personally experienced discrimination because of their race or ethnicity (79%), and most also say discrimination is the main reason many Black people cannot get ahead (68%).  
Even so, Black Americans have a clear vision for how to achieve change when it comes to racial inequality. This includes support for significant reforms to or complete overhauls of several U.S. institutions to ensure fair treatment, particularly the criminal justice system; political engagement, primarily in the form of voting; support for Black businesses to advance Black communities; and reparations in the forms of educational, business and homeownership assistance. Yet alongside their assessments of inequality and ideas about progress exists pessimism about whether U.S. society and its institutions will change in ways that would reduce racism.
These findings emerge from an extensive Pew Research Center survey of 3,912 Black Americans conducted online Oct. 4-17, 2021. The survey explores how Black Americans assess their position in U.S. society and their ideas about social change. Overall, Black Americans are clear on what they think the problems are facing the country and how to remedy them. However, they are skeptical that meaningful changes will take place in their lifetime.
Black Americans see racism in our laws as a big problem and discrimination as a roadblock to progress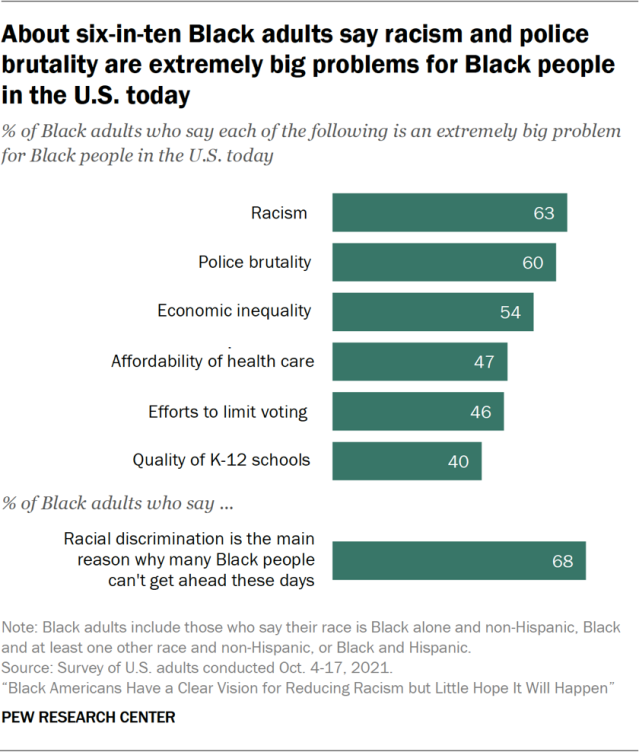 Black adults were asked in the survey to assess the current nature of racism in the United States and whether structural or individual sources of this racism are a bigger problem for Black people. About half of Black adults (52%) say racism in our laws is a bigger problem than racism by individual people, while four-in-ten (43%) say acts of racism committed by individual people is the bigger problem. Only 3% of Black adults say that Black people do not experience discrimination in the U.S. today.
In assessing the magnitude of problems that they face, the majority of Black Americans say racism (63%), police brutality (60%) and economic inequality (54%) are extremely or very big problems for Black people living in the U.S. Slightly smaller shares say the same about the affordability of health care (47%), limitations on voting (46%), and the quality of K-12 schools (40%).
Aside from their critiques of U.S. institutions, Black adults also feel the impact of racial inequality personally. Most Black adults say they occasionally or frequently experience unfair treatment because of their race or ethnicity (79%), and two-thirds (68%) cite racial discrimination as the main reason many Black people cannot get ahead today.