THE MOMENT
Early Life
Melissa Arnette Elliott was born on July 1, 1971, at Naval Medical Center Portsmouth in Portsmouth, Virginia aka God's Country. She is the only child of mother Patricia Elliott, a power-company dispatcher, and father Ronnie, a former U.S. Marine. Elliott grew up in an active church choir family, and singing was a normal part of her youth. At the age of four, she wanted to be a performer, and, as biographer Veronica A. Davis writes, she "would sing and perform for her family". In later years, she feared no one would take her seriously, because she was always the class clown. While her father was an active Marine, the family lived in Jacksonville, North Carolina, in a manufactured home community. Elliott blossomed during this part of her life. She enjoyed school for the friendships that she formed even though she had little interest in schoolwork. She would later get well above average marks on intelligence tests, and she was advanced two years ahead of her former class. Her move in grades caused isolation, and she purposely failed, eventually returning to her previous class. When her father returned from the Marines, they moved back to Virginia, where they lived in extreme poverty.
Life in Virginia saw many hardships. Elliott talks about domestic abuse by her father. She refused to stay over at friends' homes out of fear that on her return home she would find her mother dead. When Elliott was eight, she was molested by a cousin. In one violent incident, Ronnie Elliott dislocated his wife's shoulders and during another, Elliott herself was threatened with a gun.At the age of fourteen, Elliott's mother decided to end the situation and fled with her daughter on the pretext of taking a joyride on a local bus. In reality, the pair had found refuge at a family member's home where their possessions were stored in a loaded U-Haul truck. Elliott tells her that she feared her father would kill them both for leaving.
She later stated, "When we left, my mother realized how strong she was on her own, and it made me strong. It took her leaving her home to be able to realize that."
Elliott and her mother lived in the Hodges Ferry neighborhood of Portsmouth, Virginia. Elliott graduated from Woodrow Wilson High School (Now known as Manor High School) in Portsmouth, Virginia, in 1990.
CAREER
Melissa Arnette Elliott (born July 1, 1971), better known as Missy Elliott or Missy "Misdemeanor" Elliott,[4] is an American rapper, singer, songwriter, and record producer. She embarked on her music career with R&B girl group Sista in the early-mid 1990s and later became a member of the Swing Mob collective along with childhood friend and longtime collaborator Timbaland, with whom she worked on projects for American R&B acts Aaliyah, 702, Total, and SWV. Following several collaborations and guest appearances, she launched her solo career in 1997 with her debut album Supa Dupa Fly, which spawned the top 20 single "Sock It 2 Me". The album debuted at number three on the Billboard 200, the highest charting debut for a female rapper at the time.
Elliott's second album, Da Real World, was released in 1999 and produced the singles "She's a Bitch", "All n My Grill", and top five hit "Hot Boyz". The remix of the latter song broke the record for most weeks at number-one on the US R&B chart on the issue dated January 15, 2000, as well as spending 18 weeks at number one on the Hot Rap Singles chart from December 1999 to March 2000. With the release of Miss E… So Addictive (2001), Under Construction (2002), and This Is Not a Test (2003), Elliott established an international career that yielded hits including "Get Ur Freak On", "One Minute Man", "4 My People", "Gossip Folks", and "Work It". The latter won her a Grammy Award for Best Female Rap Solo Performance. She released her first extended play, titled Iconology in 2019.
Elliott has been referred to as the "Queen of Rap" by media outlets. Her accolades include four Grammy Awards. She has sold 40 million records worldwide, is the best-selling female rapper in Nielsen Music history, according to Billboard. She became the first female rapper inducted into the Songwriters Hall of Fame and received the MTV VMAs Michael Jackson Video Vanguard Award for her impact on the music video landscape. In 2020, Billboard ranked her at number five on the 100 Greatest Music Video Artists of All Time. In 2021, she was honored with a star on the Hollywood Walk of Fame. In 2023, she became the first female hip-hop artist nominated for the Rock and Roll Hall of Fame.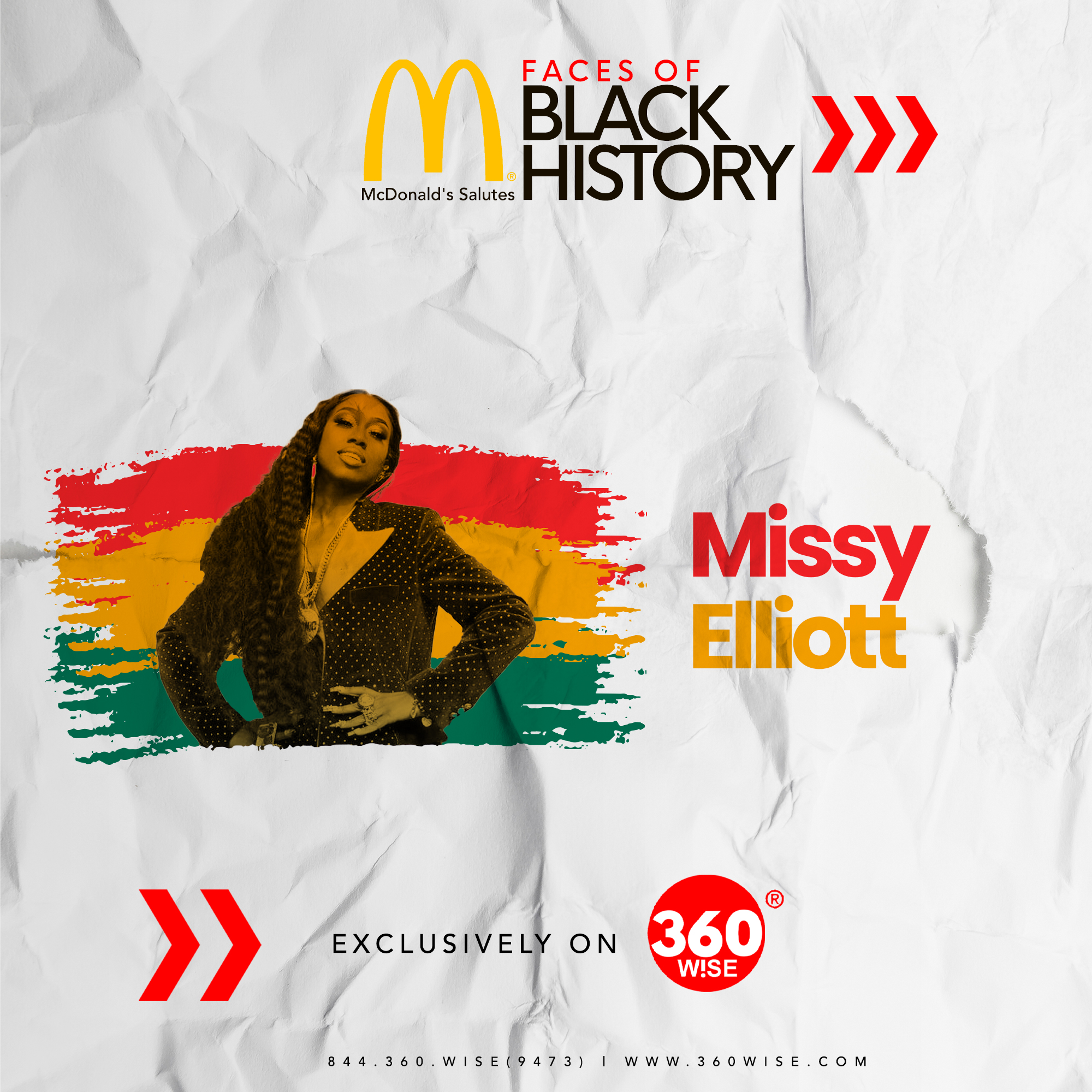 QUICK FACTS
co-founded the record label Roc-A-Fella Records in 1995

released his debut studio album Reasonable Doubt in 1996
Thank you to the New York Tristate Owner and Operators Association for your continued support of the Black Community.
All featured faces of Black History are not captured in the 2023 theatre production.