THE MOMENT
Early Life
Richard Claxton Gregory was born the second of six children on October 12, 1932, in St. Louis, Missouri. Gregory grew up in crippling poverty. His father abandoned the family, leaving his mother to work long hours as a maid to support the family. At an early age, Gregory found the power of comedy to defend himself against childhood bullies. "They were going to laugh anyway, but if I made the jokes they'd laugh with me instead of at me," he wrote in his 1964 autobiography. "After a while, I could say anything I wanted. I got a reputation as a funny man. And then I started to turn the jokes on them." In high school, he also became a track star and showed a thirst for activism when he protested against segregated schools. He was later accepted to Southern Illinois University where he excelled in track, and in 1954, he was drafted into the Army. He began performing stand-up comedy at this time, and after winning a talent contest, he became part of the Army's entertainment division. In 1959, Gregory married Lillian Smith. They had 11 children; one son, Richard, Jr., died in infancy. Gregory acknowledged that his wife was the primary emotional caretaker of their children due to the demands of his career.
Comedy
After his return to the states, Gregory worked as an emcee at various Chicago clubs, honing his craft working the comedy circuit while taking on odd jobs. His trailblazing style of satirical humor tackled racial issues and sociopolitical topics pulled straight from contemporary headlines.
Gregory's big break came in 1961 at Hugh Hefner's Playboy Club in Chicago, where the comedian, as a replacement act, performed in front of a room of white executives visiting from the segregated South. Nonetheless, Gregory was a huge success and became a crossover star. "It was the first time they had seen a Black comic who was not bucking his eyes, wasn't dancing and singing and telling mother-in-law jokes," said Gregory in a 2000 Boston Globe interview. "Just talking about what I read in the newspaper."
The comedian had his run at the club extended by weeks and went on to become a national comedy headliner. That same year, Gregory made history when he appeared on Jack Paar's Tonight Show after making it clear he wanted to be invited to sit on the couch to chat with the host like white entertainers, becoming the first African American guest to do so. After his appearance, Gregory became a recurring guest on the show.
He also released popular albums In Living Black and White (1961) and Dick Gregory Talks Turkey (1962).
Activist
Over the years, Gregory became devoted to health and fitness, adopting a vegetarian diet and examining issues related to diet within African American communities. He became a noted university lecturer and also regularly went on hunger strikes to bring awareness to various global issues including the Vietnam War, women's rights, apartheid in South Africa, police brutality and American Indian rights.
During the mid-1980s, the comedian/activist launched a weight-loss business known as the Slim/Safe Bahamian Diet. He eventually filed a lawsuit against his business partners and experienced major financial troubles that led to the loss of his family's 40-acre farm in Plymouth, Massachusetts.
In his later years, Gregory became known for supporting various conspiracy theories about the assassinations of King and John and Robert Kennedy, the crack cocaine epidemic and the 9/11 terrorist attacks. He also turned away from stand-up for a time, preferring to stay out of clubs where liquor was served, but he later made his way back to performing. In 1996, he starred in the critically well-received Off-Broadway production Dick Gregory Live!
The comedian/activist also authored a number of books, including Nigger: An Autobiography (1964). In the foreword, he wrote to his deceased mother: "Wherever you are, if ever you hear the word 'nigger' again, remember they are advertising my book…"). He spoke about the controversial word in the title of his book in a 2002 interview with NPR: "I said, let's pull it out of the closet, let's lay it out there, let's deal with it, let's dissect it," he said. "It should never be called 'the N-word.' "
His other books include No More Lies: The Myth and the Reality of American History (1971), Dick Gregory's Natural Diet for Folks Who Eat: Cookin' With Nature (1973) and the memoir Callus on My Soul (2000).
In 1999, Gregory was diagnosed with lymphoma, but refused chemotherapy and instead turned to diet and alternative treatments. The cancer went into remission. He died on August 19, 2017, at the age of 84. Personal Life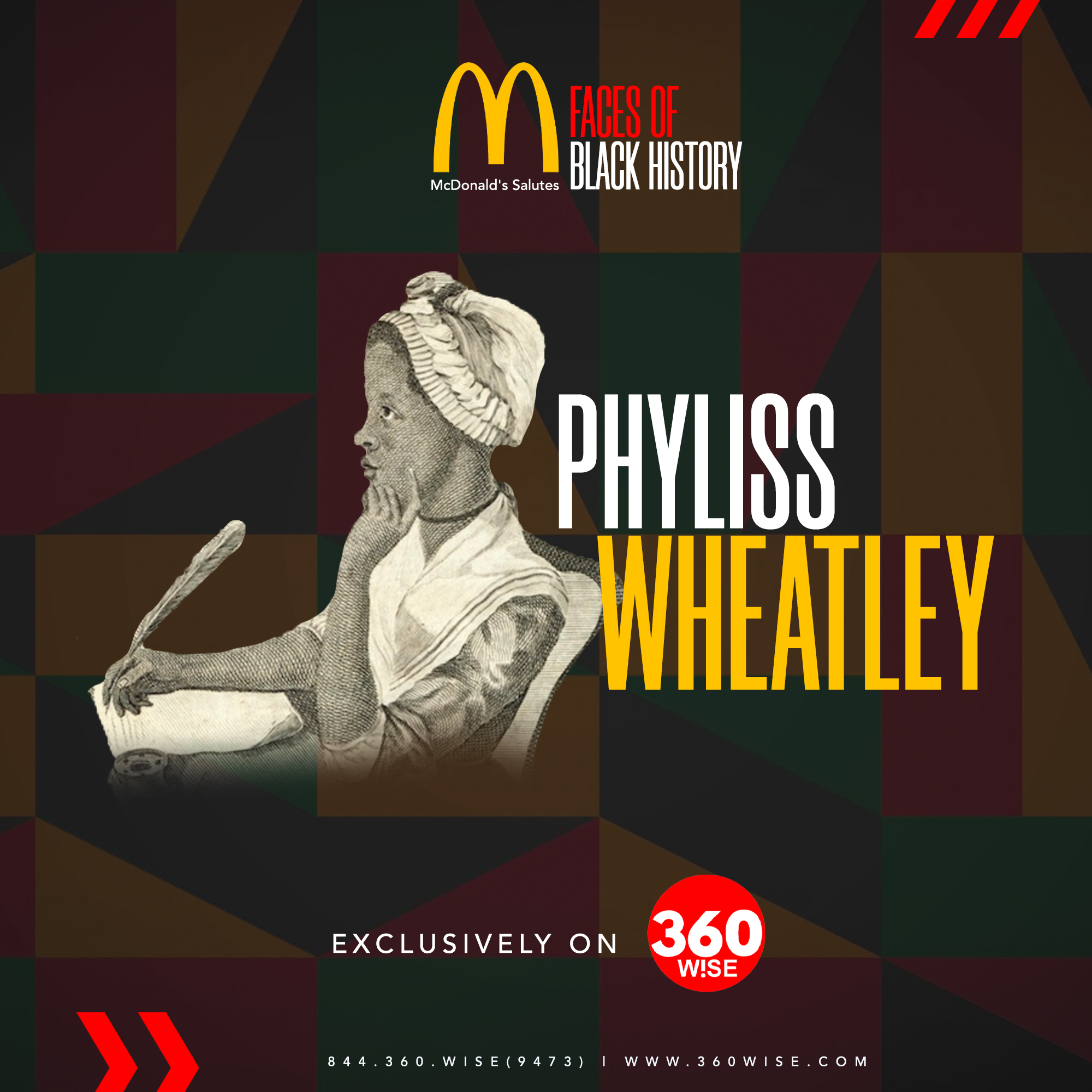 QUICK FACTS
Born around 1753 in Gambia, Africa

Poet Phillis Wheatley was brought to Boston, Massachusetts, on an enslaved person ship in 1761 and was purchased by John Wheatley as a personal servant to his wife.

first African American and one of the first women to publish a book of poetry in the colonies in 1773
QUOTES
"Through thickest gloom look back, immortal shade, On that confusion which thy death has made."
—Phillis Wheatley
Thank you to the New York Tristate Owner and Operators Association for your continued support of the Black Community.
All featured faces of Black History are not captured in the 2022 theatre production.