[siteorigin_widget class="OffTheShelf_Headline_Widget"][/siteorigin_widget]
For Immediate Release
___________________________________________________________________________________
November 9, 2020–The Center for Global Africa (CGA) at Delaware State University and the African
Peer Review Mechanism (APRM) of the African Union (AU) will host our 2nd annual (virtual) Pan-African
Development Conference, November 12-14, 2020. The Opening Address will be delivered by H.E.
Julius Maada Bio, President of the Republic of Sierra Leone.2nd annual (virtual) Pan-African Development Conference,
The Conference will convene high-level institutional dialogue among officials and stakeholders of Africa
and the Diaspora, focused on executing joint initiatives in monetized and mutually beneficial ways, in
conjunction with Historically Black Colleges and Universities (HBCUs) and the Thurgood Marshall
College Fund.
Panelists will apply their expertise to address aspects of the following areas of African development:
1. Food and Seed Security and Agricultural Value Chains
2. Good Governance and Economic Productivity during COVID-19 Challenges
3. Reimaging Africa and Bridging the Africa-Diaspora Divide via Youth and Media Platforms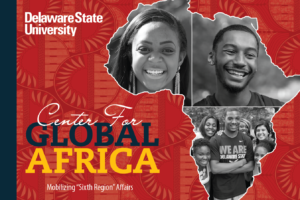 Speakers include H.E. Thomas Kwesi Quartey, Deputy Chairperson of the APR Panel of Eminent
Persons, U.S. Ambassador to the African Union Jessica Lapenn, U.S. Senator Chris Coons, U.S. Rep.
Lisa Blunt Rochester, Dusty Baker, Coach of the Houston Astros, Dr. Joyce Payne, Founder of the
Thurgood Marshall College Fund and a host of others.
APRM CEO Professor Eddy Maloka stated "We look forward to this second conference for Diaspora
engagements to share knowledge of the APRM process and how we can work together as development
partners and drivers of change that's more reflective of our true collective skills and resource
capabilities."
Professor Aharone, Founding Director, CGA expressed "Beyond necessary dialogue to bridge real and
imagined divides, the conference is designed to create 2-way channels for Africa and Diaspora
collaborations that are not only problem solving and revenue-generating, but also provide HBCUs with
expanded roles on the global stage."
The Center for Global Africa (CGA) is an academic think tank housed at Delaware State University
(DSU) that engages in research, consultancy, advocacy, and enterprising practices for joint US-Africa
development, with emphasis on promoting the intellectual capital of HBCUs and investment potential of
U.S. industries.
APRM a specialized agency of the AU that conducts "Country Review Reports" to advance African
governance and socioeconomic productivity through slated recommendations to accelerate political
stability, sustainable development, and continental cooperation.
Action steps of the conference aim to operationalize official pathways to enterprisingly incorporate
Diaspora research, resources, and expertise into African development as functional arms of Agenda
2063, which is the AU's 50-year plan for a transformative African Renaissance.
To register for the conference visit, www.centerforglobalafrica.com
Contact: Alicia Clark
302-690-8407
info@centerforglobalafrica.com