THE MOMENT
Early Life
Coolio is a Grammy winning American rapper, who has sold over 30 million records globally. He was born Artis Leon Ivey Jr. on August 1, 1963 in Monessen, Pennsylvania and later moved to Compton, California. He was an intelligent child and was very fond of reading. As a young boy he had a very small built and was asthmatic which gave him a difficult time at school. His parents divorced when he was 11, and searching for a sense of belonging and companionship, he joined a gang named Baby Crips. However, he was never truly accepted by them, and in retaliation, he tried to develop a "bad boy" image by carrying weapons to school and defying authority. Although he was a bright and promising student in his younger years, he never really lived up to his academic potential. At the age of 17, he was jailed for many months on charges of theft.
CAREER
After leaving school, he joined Compton Community College, where he began to focus on his love of rap music. He began performing in contests and adapted the stage name of Coolio. He began appearing regularly on a rap radio station called "KDAY" and released his first singles "Watcha Gonna Do". During this time, he fell victim to cocaine abuse and had to enter rehab, which, for a time, put an end to his aspirations to become a rap musician. After being released from rehab he held a number of jobs such as firefighter and airport security personnel, all the while working to kick start his rap career.
The next song that Coolio released was "You're Gonna Miss Me" but it did not receive positive reviews. However, he had begun to make friends in the LA rap and hip-hop scene, which led to a guest appearance on the debut album of the band "WC and the Maad Circle". His own debut album followed three years later in 1994. It was titled "It Takes A Thief" and featured the poplar tracks "County Line" and "Fantastic Voyage". The album was a hit and made it to the top 10 in the charts. It achieved platinum status and was given positive reviews by critics and fans.
One of Coolio's biggest hits is the song "Gangster's Paradise" which his producer initially discouraged Coolio from including on his album. It was made a part of the soundtrack of the movie "Dangerous Minds" starring Michelle Pfeiffer. The song was a phenomenal success; it was Coolio's first No. 1 pop hit and the first such song to reach No. 1 in the UK. It was also named the No. 1 song of the year in 1995. The album's success convinced Coolio's producer to include it on his album and it was chosen as the title track. The album went triple platinum and featured a number of other hits such as "1, 2 ,3, 4" and "Too Hot". The comedian Weird Al Yankovic performed a parody of "Gangster's Paradise" and called it "Amish Paradise". Ironically enough, it became Weird Al's biggest hit to date.
Coolio's third album was titled "My Soul" but it was a disappointing follow up to his previous one. He set up his own label by the name of "Crowbar" and appeared in film and television roles, including the popular game show "Hollywood Squares", the reality TV show "Celebrity Big Brother" and films such as "Tyrone" and "Batman & Robin". He is spokesperson for the group "Environmental Justice and Climate Change" which works to contain global warming. He has won the Grammy Award for "Best Rap Solo Performance" along with a number of other prestigious awards and nominations.
Historic Research Credit: Famous African Americans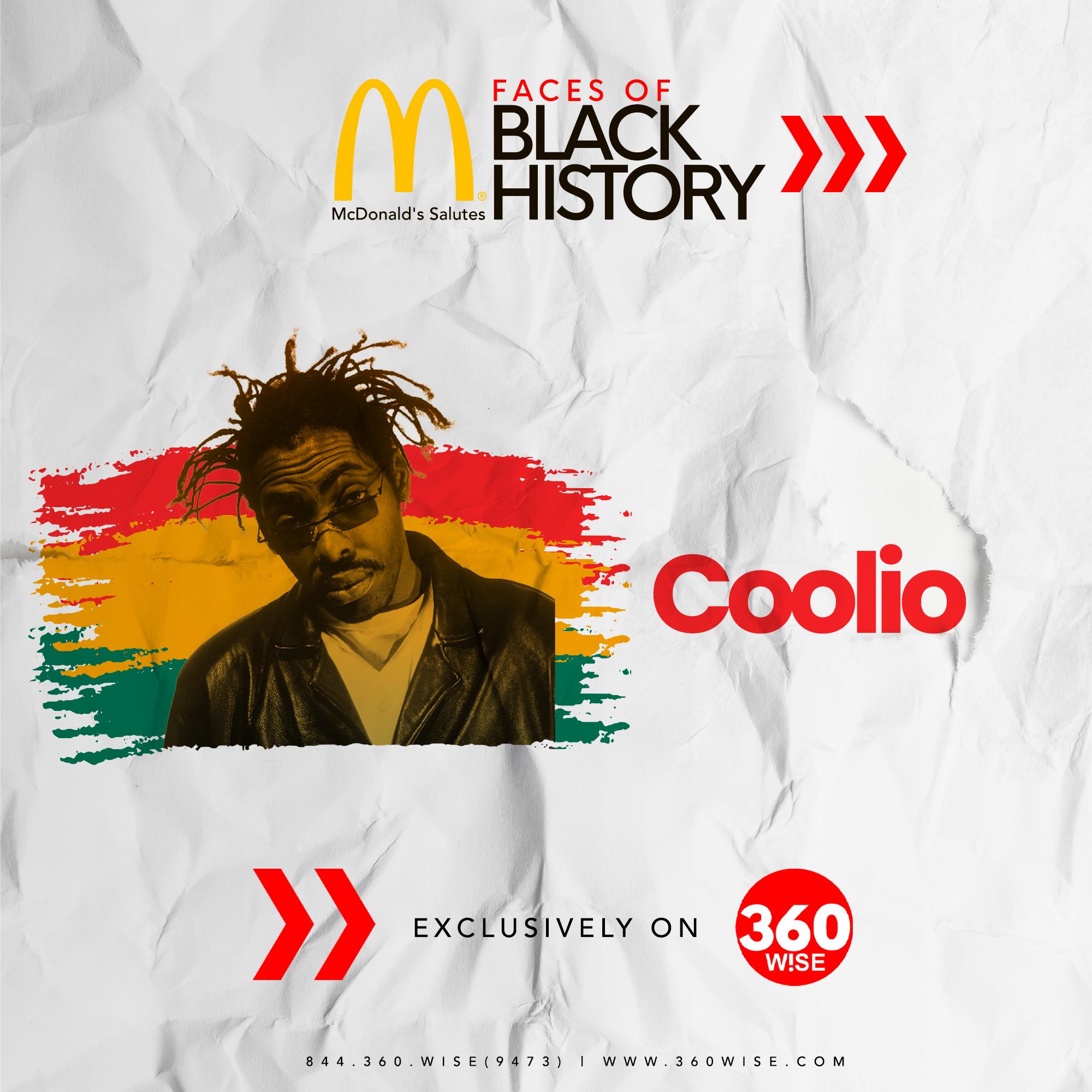 QUICK FACTS
He was born Artis Leon Ivey Jr. on August 1, 1963

Sold over 30 million records globally

"Gangsta Paradise" Coolio's first No. 1 pop hit and first No1 in sone of this type in the UK.
Thank you to the New York Tristate Owner and Operators Association for your continued support of the Black Community.
All featured faces of Black History are not captured in the 2023 theatre production.