THE MOMENT
Early Life
Berry Gordy Jr. was born on November 28, 1929, and was raised in Detroit, Michigan. He was not the first businessperson in the family; both parents worked for themselves, his father as a plastering contractor, his mother as an insurance agent. As a child Gordy was interested in music, and his song "Berry's Boogie" won a talent contest. However, he did not receive much formal training in music—only a little on the piano and merely a week on the clarinet. Gordy dropped out of Northeastern High School during his junior year to pursue a career as a boxer. Between 1948 and 1951 he fought fifteen matches, twelve of which he won, but his boxing career was cut short when he was drafted to serve in the U.S. Army during the Korean War.
Enters the music business
When Gordy's service in the army ended in 1953, he returned to Detroit and used the money he had saved from his military pay to open a record store called the Three-D Record Mart. His love for the jazz of Stan Kenton (1912–1979), Charlie Parker (1920–1955), and Thelonious Monk (1917–1982) influenced the records he tried to sell more than his customers' requests and his business soon failed. Gordy worked for his father for a short period and then on an assembly line at the Ford Motor Company. He did not find the work interesting, and as he worked, he wrote songs in his head, some of which were recorded by local singers. The record company Decca Records bought several of his songs, including "Reet Petite" and "Lonely Teardrops,"and when Gordy compared the money, he made for writing the songs to what Decca made from the minor hits, he realized that writing the songs was not enough. He needed to own them.
Hits the big time
At the suggestion of a friend, teenage singer William "Smokey" Robinson (1940–), Gordy borrowed seven hundred dollars from his father and formed his own company to make and sell records. Motown Records was headquartered in a house on Detroit's West Grand Boulevard, where Gordy slept on the second floor and made records on the first. In time the company grew, with nine buildings on the same street housing its various branches, such as Jobete, music publishers; Hitsville, USA, a recording studio; International Talent Management, Inc.; the Motown Artist's Development Department (which showed Gordy's personal interest in his performers, as this was where they were taught to eat, dress, and act like professionals); and the Motown Record Corporation. In 1960 Motown released the song "Shop Around," written by Smokey Robinson and performed by him and the Miracles. The song sold more than a million copies, and with that record Gordy's company launched the most successful and influential era in the history of popular music. What came to be called the Motown Sound was a musical form that combined classic African American gospel singing with the new rock-and-roll sound that was being shaped by Elvis Presley (1935–1977) and the British band the Beatles.
Motown Records made more than 110 number-one hit songs and countless top-ten records, including "Please Mr. Postman," "Reach Out, I'll Be There," "My Girl," "Stop! In the Name of Love," "For Once in My Life," "How Sweet It Is to Be Loved by You," "Heard It Through the Grapevine," "My Guy," ";Dancing in the Streets," "Your Precious Love," "Where Did Our Love Go," "Baby Love," "I Hear a Symphony," "I Want You Back," and "I'll Be There." Just as good is the list of artists Gordy brought into the spotlight: Diana Ross (1944–) and the Supremes, the Jackson Five, Stevie Wonder (1950–), Smokey Robinson and the Miracles, the Four Tops, the Temptations, Gladys Knight (1944–) and the Pips, Tammi Terrell (1945–1970) and Marvin Gaye (1939–1984), the Marvelettes, Mary Wells (1943–1992), and Martha Reeves (1941–) and the Vandellas.
Trouble Arises
By the mid-1970s, though, some of the Motown artists had begun to resist Gordy's tight control and began to break up Gordy's "family" of stars. The first to leave was Gladys Knight and the Pips. In 1975 the Jackson Five announced that they would be moving to Epic Records when their Motown contract expired. Although Gordy kept Stevie Wonder at Motown by promising him $13 million over seven years in the famous "Wonderdeal" of 1975, Gordy's public statements usually expressed disappointment that his superstars came to value money over loyalty. This was heard often from Gordy when, in 1981, Diana Ross announced her move to RCA Records. Ross's move was especially surprising and bitter for Gordy because in 1972 he had moved his headquarters to Los Angeles, California, to begin a career in film, not only for himself, but so he could turn Ross into a movie star. His first film was the 1972 Paramount release Lady Sings the Blues, the story of jazz singer Billie Holiday (1915–1959) starring Ross. The picture was nominated for five Academy Awards and took in more than $8.5 million at the box office. In 1975 Gordy directed Ross in Mahogany, the story of an African American fashion model's rise to fame. Although the film did well at the box office, it was not nearly the critical success of Lady Sings the Blues. Other Gordy films were The Bingo Long Traveling All Stars and Motor Kings (1976), Almost Summer (1978), The Wiz (1978) starring Michael Jackson (1958–) and Diana Ross, and The Last Dragon (1985).
Gives up his company
In June 1988 Gordy sold his company to MCA, Inc. He kept control of Jobete, the music publishing operation, and Motown's film division, but he sold the record company for $61 million. He told the newspaper Daily Variety that he wanted to make sure that the history of Motown remained alive.
Esther Edwards, Berry Gordy's sister, was also interested in preserving Motown's history. The brick house in Detroit once named Hitsville, USA, became the site of the Motown Museum thanks in large part to Edwards. She had saved hundreds of boxes of Motown items, including original music scores, posters, and photographs, and until 1988 most of them were stuck to the walls with thumbtacks. In an effort to have the collection preserved, Michael Jackson, whose ties to Berry were still strong in 1990, donated $125,000 to the Motown Museum.
In late 1994 a plan was announced to make a tribute album to Gordy. Even though Gordy was oftentimes recognized as an entrepreneur, he was first and foremost a song-writer. Singers who signed on to sing some of Gordy's songs on the tribute album included Diana Ross, the Four Tops, the Temptations, and Smokey Robinson. In 2000, Gordy gave $750,000 to the Rhythm and Blues Foundation in order to help those pioneers of rhythm and blues in need. Gordy's talents as a songwriter and entrepreneur and his huge contribution to popular music were recognized in 2001, when he was inducted into the Independent Music Hall of Fame.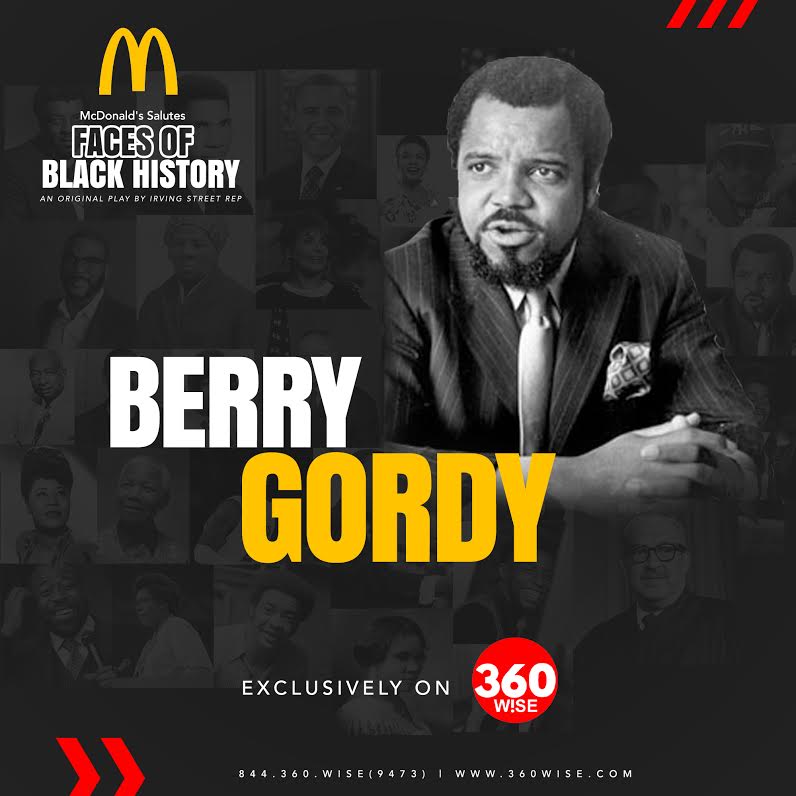 QUICK FACTS
Berry Gordy Jr. was born on November 28, 1929, and was raised in Detroit, Michigan.

Motown Records made more than 110 number-one hit songs and countless top-ten records.

Gordy's talents as a songwriter and entrepreneur and his huge contribution to popular music were recognized in 2001, when he was inducted into the Independent Music Hall of Fame.
Thank you to the New York Tristate Owner and Operators Association for your continued support of the Black Community.
All featured faces of Black History are not captured in the 2022 theatre production.