THE MOMENT
WHO IS ELGIN BAYLOR?
In his 14 seasons with the Lakers, first in Minneapolis but mostly in Los Angeles, with another pair of Hall of Famers, Jerry West and Wilt Chamberlain, as teammates, Baylor played with a creative flourish that had never been seen in pro basketball.
He was only 6 feet 5 inches — relatively short for a forward even then — but he played above the rim when he soared toward the basket. His ability to twist and turn in midair on his way to the hoop previewed the freewheeling shows put on by stars like Julius Erving, Magic Johnson, Michael Jordan and LeBron James.
When Baylor arrived in the N.B.A. in 1958, an All-American out of Seattle University, the pros usually scored on one-handed set shots or running hooks. Baylor added a new dimension.
"You could not stop Elgin from driving to the basket," the Hall of Fame guard Oscar Robertson recalled in his autobiography "The Big O" (2010), adding, "You sure couldn't out-jump him, or hang in the air any longer than he did."
"Elgin," Robertson wrote, "was the first and original high flier."
Baylor's sturdy 225-pound frame complemented his finesse. He could muscle his way to the basket, and he followed up his missed shots by maneuvering to score over bigger players. He was also an outstanding rebounder and passer.
Baylor was voted to the all-N.B.A. team for the league's first 50 years. He was a 10-time N.B.A. first-team All-Star selection and averaged more than 30 points a game for three consecutive seasons in the early 1960s.
He set a league record by scoring 64 points against the Boston Celtics in November 1959, then scored 71 against the Knicks in November 1960, only to see Chamberlain score 100 points for the Philadelphia Warriors against the Knicks in March 1962.
Baylor joined with West and later with Chamberlain to turn the Lakers into a glamour team. He played in eight N.B.A. final series, but the Lakers lost seven times to the Celtics in the Bill Russell era and then to the Knicks in a memorable Game 7 at Madison Square Garden in 1970.
He was elected to the Basketball Hall of Fame in 1977.
But Baylor had little success when he turned to coaching and front-office positions. He coached three losing teams with the New Orleans Jazz (now the Utah Jazz) in the 1970s and later spent 22 mostly frustrating seasons as the general manager of the Los Angeles Clippers.
In the days when the N.B.A.'s TV coverage was limited, Baylor had never viewed a pro game before he played in one.
"I had never seen anyone else do my moves," he told Terry Pluto in the N.B.A. oral history "Tall Tales" (1992). "It starts with talent; you have to be able to jump. But more than that, things I did were spontaneous. I had the ball, I reacted to the defense."
And he had a nervous facial twitch that sometimes made defenders think he was setting off in one direction only to find him heading the other way.
As the center Johnny Kerr put it, "You didn't know if it was a head fake or what was going on."
Elgin Gay Baylor was born in Washington, D.C., on Sept. 16, 1934. He was a high school basketball star, then played for one season at the College of Idaho and two seasons at Seattle University, leading his team in his final year there to the 1958 N.C.A.A. tournament final, a loss to Kentucky.
The Minneapolis Lakers selected Baylor as the league's overall No. 1 pick in the 1958 draft. He took them to the 1959 N.B.A. final series, where he averaged nearly 25 points a game in a losing cause, the Lakers being swept by the Celtics. He was named rookie of the year.
The Lakers moved to Los Angeles in 1960, the year West arrived to provide an outside game to go with Baylor's all-around skills.
Baylor was eventually hampered by knee surgery that diminished his spring, but he remained an offensive force. He retired after his injuries limited him to two games in 1970-71 and just nine at the outset of the 1971-72 season, when the Lakers went on to defeat the Knicks for the championship.
"Winning that championship was marred for me by the sad, conspicuous absence of Elgin Baylor," West recalled in his memoir "West by West" (2011), written with Jonathan Coleman. "The guy that shared all the blood, sweat and tears wasn't there to realize what it felt like."
Baylor averaged 27.4 points and 13.5 rebounds for his career and played in 11 All-Star Games.
He was fired as the Jazz coach in 1979. He became the head of basketball operations for the Clippers, essentially their general manager, in 1986.
The Clippers made the playoffs only four times in Baylor's tenure, which ended before the 2008-09 season opened. The Clippers said he had resigned, but he filed a lawsuit in March 2009 against the Clippers' owner, Donald T. Sterling, and the N.B.A., maintaining that he had been fired as a result of age and racial discrimination.
The lawsuit contended that Sterling had described Baylor as "a token" and that he had wanted the team to be composed of "poor black kids from the South" with a white head coach. The N.B.A. was accountable, according to the suit, because league officials knew of a large salary disparity between other general managers and Baylor, an African-American.
A jury decided in the Clippers' favor, concluding that Baylor had lost his job because of the team's poor showings.
But in April 2014, the N.B.A. imposed a lifetime ban on Sterling shortly after a recording obtained by TMZ caught him making racist comments in a conversation with a female acquaintance. The team was sold to the businessman Steve Ballmer in August 2014.
Baylor is survived by his wife, Elaine; a daughter, Krystal; two children from a previous marriage, Alan and Alison; and a sister, Gladys Baylor Barrett.
Long after Baylor's playing days ended, his reputation endured.
Tom Heinsohn, the Hall of Fame forward on Celtic teams that bested Baylor's Lakers, marveled at his feats.
"Elgin Baylor as forward beats out Bird, Julius Erving and everybody else," Heinsohn told Roland Lazenby in his biography "Jerry West" (2009), referring to the Celtics' Larry Bird. "He had the total game: defense, offense, everything, rebounding, passing the ball." (Heinsohn died in November at 86.)
Bill Sharman, the Celtics' sharpshooting guard who coached Baylor in his brief, final season, was even more succinct, telling The Los Angeles Times back then, "Elgin Baylor is the greatest cornerman who ever played pro basketball."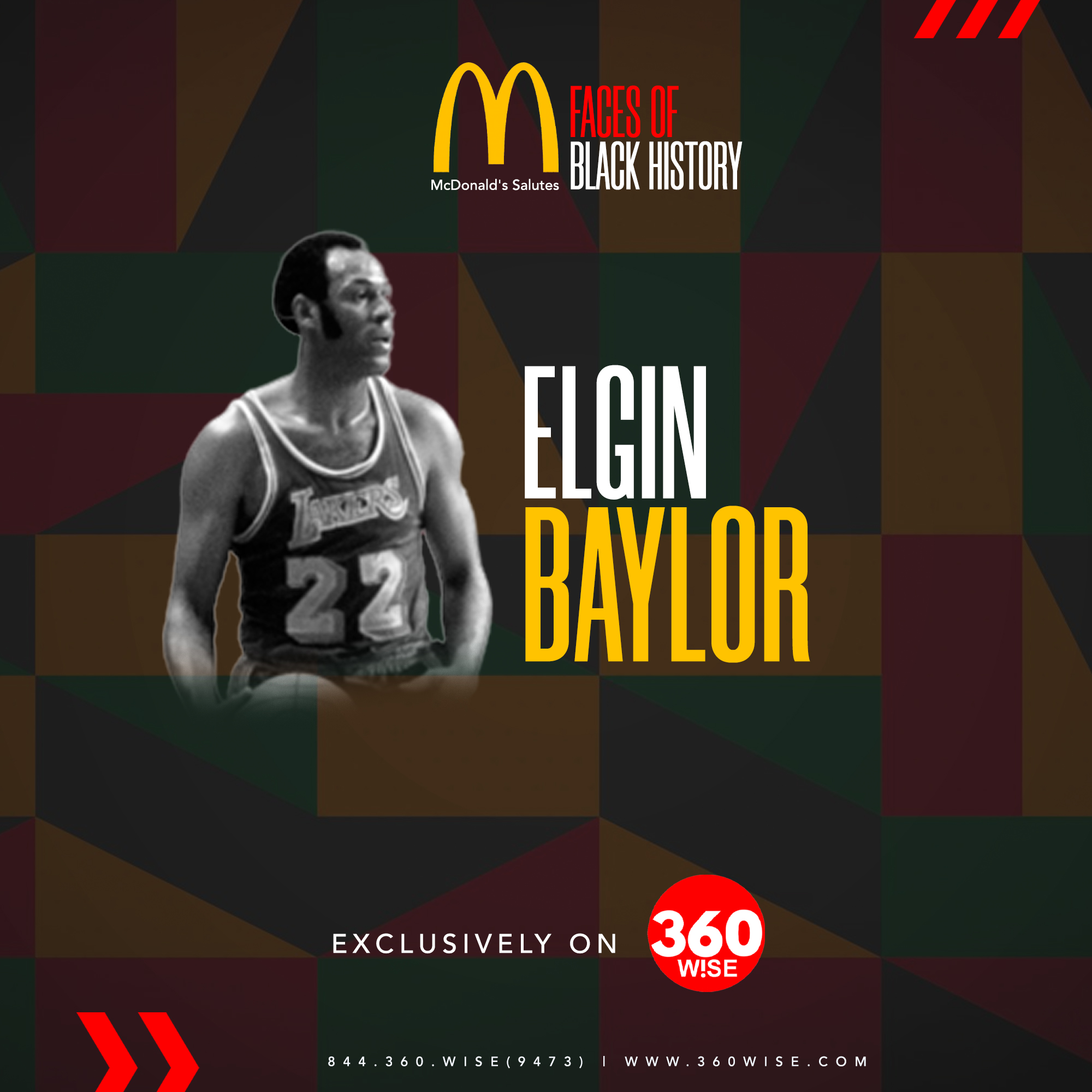 QUICK FACTS
September 16, 1934, Washington, D.C.
Thank you to the New York Tristate Owner and Operators Association for your continued support of the Black Community.
All featured faces of Black History are not captured in the 2022 theatre production.