THE MOMENT
Early Life
orn in Depression-era Chicago, the son of hard-working, God-fearing parents, Cleveland grew up in an environment where gospel flourished. His grandmother introduced him to Chicago's Pilgrim Baptist Church, where the budding musician was influenced by choir director Thomas A. Dorsey—also known as the father of gospel music. Under Dorsey's tutelage, the youth made his solo debut with the choir at the age of eight. The vocalist subsequently taught himself to play piano, often recounting how he practiced on imaginary keys until his parents could afford to purchase an upright for him. As Tony Heilbut quoted the star in The Gospel Sound: "My folks being just plain, everyday people, we couldn't afford a piano. So, I used to practice each night right there on the windowsill. I took those wedges and crevices and made me black and white keys. And, baby, I played just like Roberta [Martin]. By the time I was in high school, I was some jazz pianist."
Gospel Roots
Roberta Martin, a Dorsey disciple and one of the Chicago gospels pioneers to gain international recognition, was among Cleveland's idols. It was her group, the Roberta Martin Singers, who first helped shape the youth's singing and piano style, with Roberta Martin herself inspiring the youngster to begin composing. By the time he was a teenager, Cleveland was singing with a neighborhood group, the Thorn Gospel Crusaders. And once the group began featuring Cleveland's compositions, the artist found himself piquing the interest of prominent gospel talents. In 1948 Cleveland's "Grace Is Sufficient," performed at a Baptist convention, prompted Martin to begin publishing the new composer's work.
The next decade proved a productive one for Cleveland. He made his recording debut on the Apollo label in 1950, singing "Oh What a Time" with the Gospelaires. He composed songs for Roberta Martin, including "Stand by Me," "Saved," and "He's Using Me." He worked frequently with the Caravans, first establishing himself as a superlative gospel arranger, then emerging as a singer—the Caravans scored their earliest hits, in fact, with Cleveland as lead vocalist on such tunes as "Old Time Religion" and "Solid Rock." And he founded the first of his own groups, the Gospel Chimes, which helped showcase his talents as composer, arranger, and singer.
Gospel Career
By 1960 Cleveland, who had incorporated blues riffs and what Heilbut described as "sheer funkiness" in his work, had become associated with a new tenor in gospel music. That year "The Love of God," a song he recorded with Detroit's Voices of Tabernacle choir, was a sensation, and its success helped Cleveland secure a recording contract with Savoy Records, for whom he recorded more than sixty albums. The artist passed another milestone with Savoy's 1963 release Peace Be Still. A recording pairing Cleveland with the Angelic Choir of Nutley, New Jersey, the album, which held a spot on the gospel charts for more than fifteen years, has sold more than one million copies, an almost unheard-of achievement for a gospel recording.
During the 1960s Cleveland also formed the James Cleveland Singers, gradually built an international reputation, and became one of the best paid of the gospel music entertainers. And although two of Cleveland's former pupils—Aretha Franklin and Billy Preston—went on to achieve celebrity status, the master himself declined to expand his audience by moving into secular music, and instead chose to devote himself strictly to gospel.
Indeed, in the early sixties Cleveland became a minister and served Los Angeles's New Greater Harvest Baptist Church as pastor until he was able to build his own Cornerstone Institutional Baptist Church in 1970. For him, gospel music and gospel teaching were inseparable—different mediums conveying the same message. As the minister-musician explained to Ochs: "If we can't preach to people in a dry, talking sermon and get their attention, we'll sing it to them, as long as we get the message across. We have been instrumental in drawing more people to the church in recent years through singing and getting them to find favor with something in the church they like to identify with. Then when we get them into church, putting the same message into words without music is not as hard, for we have set some type of precedent with the music to get them into the church and get them focused on where we're coming from."
For Cleveland, gospel music was so vital that in 1968 he organized the first Gospel Music Workshop of America. Designed both to help preserve the gospel tradition and to feature new talent, the workshop has grown to include more than five hundred thousand members representing almost every state. "My biggest ambition is to build a school somewhere in America, where we can teach and house our convention," Cleveland told Village Voice interviewer David Jackson. This was the best way, in the artist's opinion, to assure that gospel's legacy continues.
Cleveland Last Gospel Message
Cleveland perpetuated an understanding of gospel music and gospel teaching as part of the same religious experience, believing that the music devoid of the mission is not genuine gospel. As Jackson articulated: "Through classics like 'Peace Be Still,' 'Lord Remember Me,' 'Father, I Stretch My Hands to Thee,' and 'The Love of God,' Reverend Cleveland retells a biblical love story for the plain purpose of reconciling people to God and to one another." And as his scores of devoted followers attest, concluded Jackson, "his message is widely appreciated and applauded."
Cleveland died of heart failure on February 9, 1991, in Los Angeles, California. He had not been able to sing for a year before his death due to respiratory ailments. But the last Sunday of his life, he faced his congregation at the Cornerstone Institutional Baptist Church and told them, "If I don't see you again and if I don't sing again, I'm a witness to the fact that the Lord answers prayer. He let my voice come back to me this morning," the Los Angeles Times reported. The same source reverently opined that Cleveland had been "not just … a record maker, but a mentor, producer, primary source of new material and fountainhead of artistic recognition for the form."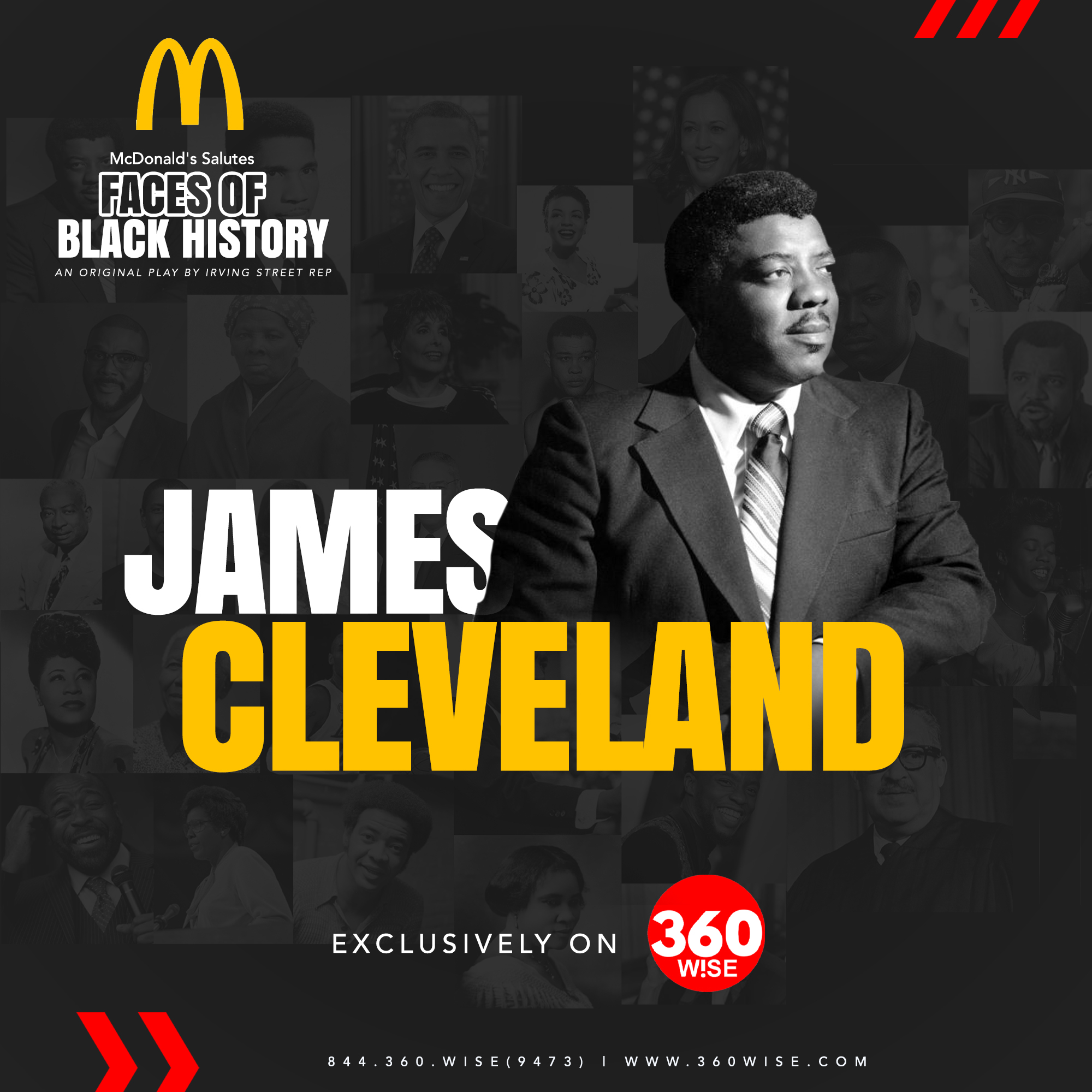 QUICK FACTS
James Cleveland was born in Depression-era Chicago, the son of hard-working, God-fearing parents, Cleveland grew up in an environment where gospel flourished.

For Cleveland, gospel music was so vital that in 1968 he organized the first Gospel Music Workshop of America.

Cleveland died of heart failure on February 9, 1991, in Los Angeles, California.
Thank you to the New York Tristate Owner and Operators Association for your continued support of the Black Community.
All featured faces of Black History are not captured in the 2022 theatre production.