THE MOMENT
Early Life
Kamala Devi Harris was born on October 20, 1964, in Oakland, California. Reared in a predominantly African American neighborhood of Berkeley, she was brought to civil rights demonstrations as a toddler and sang in her Baptist choir. Harris's mother emigrated from India attended the University of California Berkeley, where she met Harris's father Jamaican-born father, Donald. The couple had another daughter Harris's baby sister Maya. Harris's parents divorced and the family moved to Montreal, Quebec where Ms. Harris learned French. Harris attend Westmount High School in Quebec, where she founded a dance troupe. She entered Howard University in Washington D.C. and studied liberal arts student council and joined the debate team, in route to a B.A. in political science and economics. Harris is also a part of the historic Sorority Alpha Kappa Alpha which gave her the support she needed throughout her career. Harris then enrolled at the University of California, Hastings College of the Law, earning her J.D.in 1989.
Law Career
After earning admittance to the State Bar of California in 1990, Harris began her career as a deputy district attorney in Alameda County. She became managing attorney of the Career Criminal Unit in the San Francisco District Attorney's Office in 1998, and in 2000 she was appointed chief of its Community and Neighborhood Division during which time she established the state's first Bureau of Children's Justice. In 2003 Harris became San Francisco District Attorney. In administration she launched the "Back on Track" initiative that cut recidivism by offering job training and other educational programs for low-level offenders. Harris continued her political ascent by becoming Los Angeles County District Attorney in November 2010 making her both the first African American and the first woman to hold the position. Her major accomplishments were going after the five largest financial institutions for improper mortgage practices.
US Senator
In November 2016 Harris became the second African American woman and the first South Asian American to enter the Senate. Where she made a name for herself on the Judiciary Committee questioning Brett Kavanaugh and Jeff Sessions for there improper behavior before the United States Senate.
Presidential Race 2020
On January 21, 2019 during a Martin Luther King Jr Day Interview Harris announced she was running for president in 2020. She caught the eye of Vice President Joe Biden when they debated the over the history of opposing federal busing for school integration which she benefited from tremendously. On August 11, 2020, presidential hopeful Biden announced that he chose his former rival Harris as his running mate. One of his major reasons for picking Harris was when she was Attorney General and she worked closely with his son Beau Biden. On November 7, 2020, four days after election day, Biden was declared as the 46 th president-elect after defeating Donald Trump. Making Harris the first female vice president and first Black person and Asian American to hold the position. Harris is the author of two books named The Truths we Hold: An American Journey and Smart on Crime. She is an inspiration to all young and old women to become what they have dreamed to be.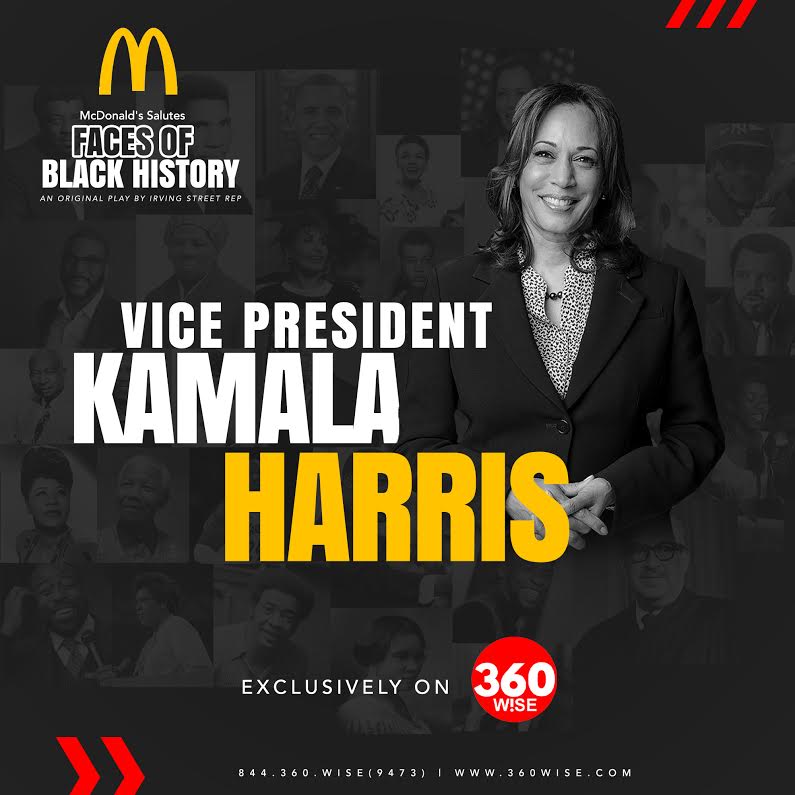 QUICK FACTS
Kamala was born on October 20, 1964, in Oakland, California

Kamala made history when she became the first woman vice president.

She is an inspiration to all young and old women to become what they have dreamed to be.
Thank you to the New York Tristate Owner and Operators Association for your continued support of the Black Community.
All featured faces of Black History are not captured in the 2022 theatre production.