THE MOMENT
Oprah Winfrey: God's Executive and T.V. Show.
Early Life
Oprah Gail Winfrey was born in a small rural town of Kosciusko, Mississippi, on January 29, 1954. Ms. Winfrey was raised in a small farming community, and during her time there her grooming years were riddled with pain and anguish. She was sexually abused by a number of male relatives and friends of her mother, Vernita, Winfrey moved to Nashville to live with her father, Vernon, a barber and businessman. In 1971, Ms. Winfrey was accepted to Tennessee State University. An Historic African American University. Ms. Winfrey hit the ground running and began working in radio and television broadcasting in Nashville.
Early Career
In 1976, Ms. Winfrey packed her bags and moved to Baltimore, Maryland, there she hosted the TV chat show People Are Talking. The show became an instant hit and Ms. Winfrey stayed with it for eight years, after which she was recruited by a Chicago TV station to host her own morning show, A.M. Chicago. Her major competitor at that time was Phil Donahue. Donahue controlled that time slot and within several months, Winfrey's opened up her show with a warm-hearted personal style had won her 100,000 more viewers than Donahue and had taken her show from last place to first in the ratings.
The Oprah Winfrey Show
In 1986, Ms. Winfrey listened to God's calling and launched The Oprah Winfrey Show as a nationally syndicated program that ran for 25 years, until 2011. With the show's placement on 120 channels and an audience of 10 million people, the show grossed $125 million by the end of its first year, of which Winfrey received $30 million.
She soon gained ownership of the program from ABC, drawing it under the control of her new production company, Harpo Productions ('Oprah' spelled backwards) and making more and more money from syndication.
In 1994, with talk shows becoming increasingly trashy and exploitative, Winfrey pledged to keep her show free of tabloid topics. Although ratings initially fell, she earned the respect of her viewers and was soon rewarded with an upsurge in popularity. Projects with Harpo have included the highly-rated 1989 TV miniseries, The Women of Brewster Place, in which Winfrey also starred. In 2004, Winfrey signed a new contract to continue The Oprah Winfrey Show through the 2010-11 season. At the time, the syndicated show was seen on nearly 212 U.S. stations and in more than 100 countries worldwide. In 2009, Winfrey announced that she would be ending her program when her contract with ABC ended, in 2011.
Oprah's Book Club
Winfrey contributed to the publishing world by launching her "Oprah's Book Club," as part of her talk show. The program showcased the talent writers and propelled many unknown authors to the top of the bestseller lists and gave joy and blessed reading to a new kind of popular abundance to her audience.
Winfrey has continued the amply named Oprah's Book Club In 2018, she famously interviewed former First Lady Michelle Obama for the release of her memoir, Becoming.
Oprah's Favorite Things
In 1997, Ms. Winfrey introduced "Oprah's Favorite Things," an annual list of holiday gifts curated by the mogul, on her talk show. Even after moving onto other projects, Winfrey continued the annual tradition. For the 20th edition in 2017, the list was featured on Amazon. She became the first celebrity voice behind Alexa, the company's voice-control system, allowing shoppers to hear Winfrey herself explain her top picks for the season.
Weight Watchers
Ms. Winfrey has publicly struggled with her weight, and her numerous weight loss efforts and fluctuating weight has been well-documented. In 1988, she revealed on her talk show that she lost 67 pounds on a liquid diet and exercise. "I had literally starved myself for four months – not a morsel of food,".
In 2015, Winfrey bought a 10 percent stake in Weight Watchers (WW). She also became and advisor for the company and secured herself a seat on the board, and she appeared in TV ads as a spokesperson for the company.
In early 2017, Ms. Winfrey struggles continued, and she again lost 42 pounds, which she credited to WW. More than two years later, she wrote a letter to WW members saying that she was diagnosed with pre-diabetes before her most recent weight loss journey, but that her blood pressure and sugar were now under control.
Oxygen Media and 'Magazine'
In 1999, Ms. Winfrey got the call from the God again and debuted Oxygen Media, a company she co-founded that's dedicated to producing cable and Internet programming for women. In doing so, Winfrey ensured her spot in the forefront of the media industry as one of the most powerful and wealthy people in show business. In 2002, she concluded a deal with the network to air a prime-time complement to her syndicated talk show.  Ms. Winfrey's got the call again and debuted in 2000 her Magazine O: The Magazine.
Oprah Winfrey Network (OWN)
Soon after The Oprah Winfrey Show ended in 2011, Winfrey moved to her own network, the Oprah Winfrey Network, a joint venture with Discovery Communications.
Partnership with Apple
In June 2018, Winfrey agreed to a multi-year deal in which she would create original content for Apple. In September 2019, it was announced that Winfrey was bringing Oprah's Book Club to the Apple TV+ streaming subscription service, with Ta-Nehisi Coates' The Water Dancer to be featured on the inaugural November 1 episode.
Wealth, Charity and Awards
According to Forbes magazine, Winfrey was the richest African American of the 20th century and the world's only Black billionaire for three years running. Life magazine hailed her as the most influential woman of her generation.
In September 2002, Winfrey was named the first recipient of the Academy of Television Arts & Sciences' Bob Hope Humanitarian Award.
In 2005, Business Week named Winfrey the greatest Black philanthropist in American history. Oprah's Angel Network raised more than $50 million for charitable programs, including girls' education in South Africa and relief to the victims of Hurricane Katrina. Winfrey is a dedicated activist for children's rights; in 1994, President Bill Clinton signed a bill into law that Winfrey had proposed to Congress, creating a nationwide database of convicted child abusers.
She also founded the Family for Better Lives foundation and also contributes to her alma mater, Tennessee State University.
In November 2013, Winfrey received the nation's highest civilian honor, the Presidential Medal of Freedom. President Barack Obama gave her this award for her contributions to her country. In February 2018, after a shooting at Florida's Marjory Stoneman Douglas High School left 17 people dead.
Political Activism
Campaigning for Barack Obama
Winfrey campaigned for Democratic presidential hopeful Barack Obama in December 2007, attracting the largest crowds of the primary season to that point. Winfrey joined Obama for a series of rallies in the early primary/caucus states of Iowa, New Hampshire, and South Carolina. It was the first time Winfrey had ever campaigned for a political candidate.
The biggest event was at the University of South Carolina football stadium, where 29,000 supporters attended a rally that had been switched from an 18,000-seat basketball arena to satisfy public demand.
Dr. Martin Luther King dreamed the dream. But we don't have to just dream the dream anymore," Winfrey told the crowd. "We get to vote that dream into reality by supporting a man who knows not just who we are, but who we can be."
Campaigning for Stacey Abrams
In November 2018, Ms. Winfrey campaigned machine aided Georgia's gubernatorial candidate Stacey Abrams, the first Black female nominee for a major party to run for governor in any state. Winfrey knocked on doors and even participated in a town-hall meeting with the Democratic candidate. In the end, Abrams narrowly lost her election bid to Republican Brian Kemp. Calls for 2020 Presidency Since Winfrey's speech at the 2018 Golden Globes, where she criticized the racially-charged environment in America, fans speculated that she might run for U.S. president in the 2020 elections. However, Winfrey has said that she does not want to and has no intention of running for president.
Golden Globes Award
In January 2018, Winfrey became the first African American woman to be honored with the Golden Globes' Cecil B. DeMille Award, for lifetime achievement. In a powerful speech, she recalled being inspired by seeing Sidney Poitier honored at the Globes decades earlier, before emphasizing the importance of a free press and the power of speaking the truth in a "culture broken by brutally powerful men."
"So, I want all the girls watching here and now to know that a new day is on the horizon," she said, in closing. "And when that new day finally dawns, it will be because of a lot of magnificent women, many of whom are right here in this room tonight, and some pretty phenomenal men, fighting hard to make sure that they become the leaders who take us to the time when nobody ever has to say, 'Me too' again.";
Famous Movies
'The Color Purple'
Winfrey's success on television led to nationwide fame and a role in Steven Spielberg 1985 film The Color Purple, for which she was nominated for an Academy Award for Best Supporting Actress. This movie showcased the many trails and tribulation of African Americans after slavery. The separation of families and the joy of finding each other after those many years of torment.
Ms. Winfrey's role in the movie was very captivating to me. Her role showed the ugliness of how a full figured beautiful African American woman was treated during the time of the Great Depression. Her role showed a battered woman who was abused not only by the family who brought her in this world but the man who promised to love her. A role that she was all too familiar to play. These images are not often rewarded through the entertainment industry, but we do not need the acceptance of others to tell our extraordinary story. In 2005, Winfrey helped give The Color Purple a new life onstage as one of the producers of the 11-time Tony-nominated musical, which ran on Broadway until 2008. A revival of the musical, which Winfrey co-produced in 2015, won a Tony Award.
'Beloved'
Winfrey signed a multi-picture contract with Disney. The initial project, 1998's Beloved, based on the Pulitzer Prize-winning novel by Toni Morrison and starring Winfrey and Danny Glover, this adaption of life as slave in North America showcase the trauma of being a mother during the time of slavery. One of the influential scenes in the movie shows the love of a mother who refused to let her children experience another day of captivity. Groundbreaking work.
Food Line: Soups, Pizzas and Sides
In 2017, Winfrey launched "O, That's Good" a line of prepared foods with a nutritious twist. The line includes pizzas, soups, and sides like mashed potatoes and pasta.
60 Minutes
In January 2017, CBS announced that Winfrey would join the newsmagazine 60 Minutes as a special contributor in the fall. In April 2019, Winfrey revealed that she had left her special post on the show because it wasn't "the best format" and that she spoke with "too much emotion" for the producers.
Personal Life
Winfrey has been in a relationship with Stedman Graham, a public relations executive, since the mid-1980s. They became engaged in 1992 but never tied the knot.  The couple lives in Chicago. Winfrey also has homes in Montecito, California, Rolling Prairie, Indiana, and Telluride, Colorado.
Oprah Gail Winfrey's life is a testament of how an unfair childhood, sexism, racism, and poverty is no excuse for not running into God's calling. She took all of her adversity and used it to become a billionaire and God's mogul. She could have used her past as a crutch and set back and let her talents go to waste, but no she used all her test's in life and used it for fuel to become a prominent African American Shero.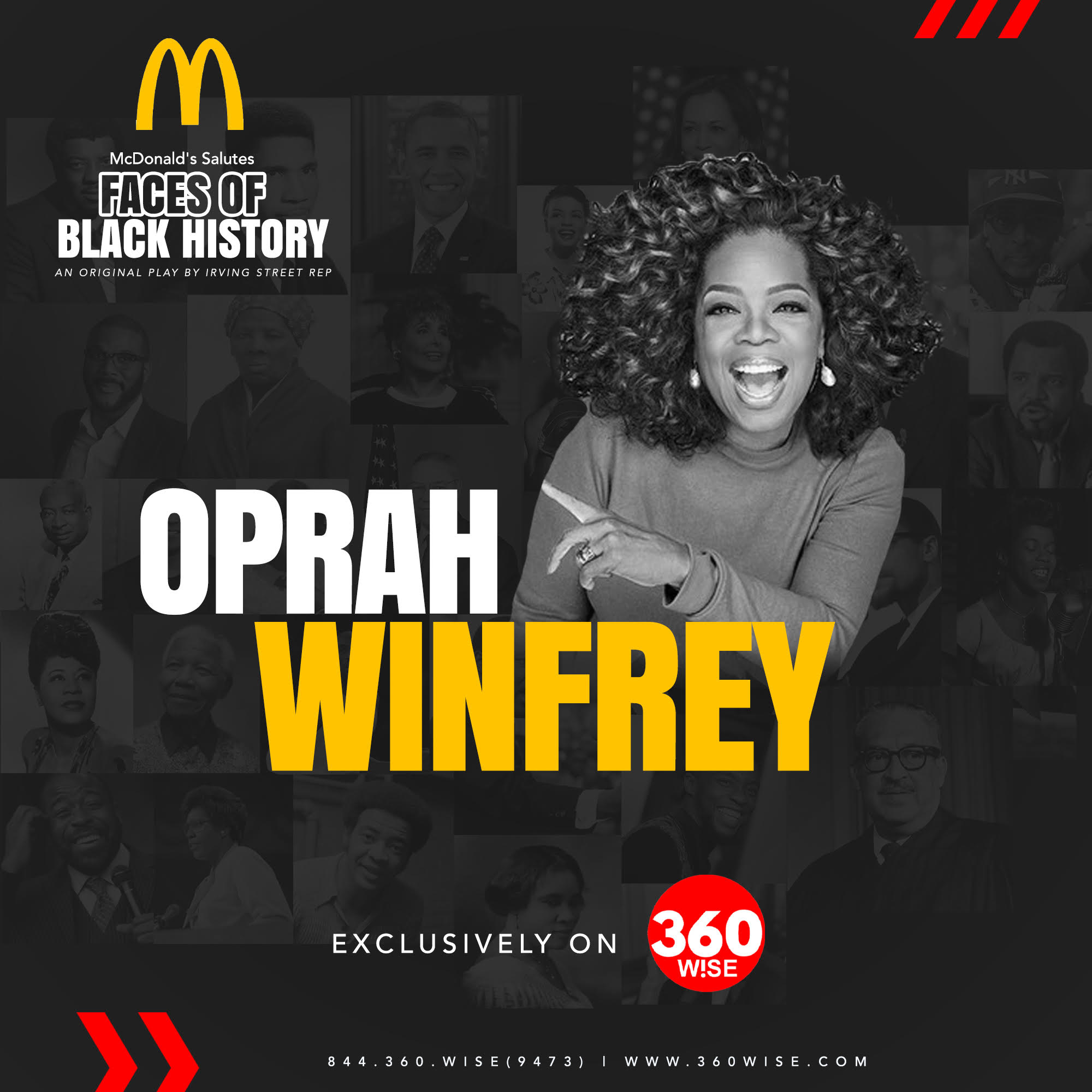 QUICK FACTS
Oprah Gail Winfrey was born in a small rural town of Kosciusko, Mississippi, on January 29, 1954.

In 1976, Ms. Winfrey packed her bags and moved to Baltimore, Maryland, there she hosted the TV chat show People Are Talking.

In 2005, Business Week named Winfrey the greatest Black philanthropist in American history. Oprah's Angel Network raised more than $50 million for charitable programs.
Thank you to the New York Tristate Owner and Operators Association for your continued support of the Black Community.
All featured faces of Black History are not captured in the 2022 theatre production.