THE MOMENT
Early Life
On December 4, 1969, Shawn Corey Carter was born in Brooklyn, a borough of New York City. He was raised in Marcy Houses, a public housing project in Brooklyn's Bedford–Stuyvesant neighborhood. After his father, Adnis Reeves, abandoned the family, Jay-Z and his three older siblings were raised by their mother, Gloria Carter. Reeves would later meet and reconcile with Jay-Z shortly before dying in 2003. Jay-Z claims in his lyrics that in 1982, at age 12, he shot his older brother in the shoulder for stealing his jewelry. Along with rapper AZ, he attended Eli Whitney High School in Brooklyn until it was closed. He then attended nearby George Westinghouse Career and Technical Education High School with rappers The Notorious B.I.G. and Busta Rhymes, followed by a stint at Trenton Central High School in Trenton, New Jersey, though he did not graduate, dropping out during his sophomore year. According to his interviews and lyrics, he sold crack cocaine and was shot at three times during this period. His former friend was sentenced to prison for possessing drugs and weapons.
According to his mother, Jay-Z used to wake up his siblings at night banging out drum patterns on the kitchen table. She bought him a boombox for his birthday, sparking his interest in music, and he began freestyling and writing lyrics. Known as "Jazzy" around the neighborhood, he later adopted the stage name "Jay-Z" in homage to his mentor Jaz-O. Jay-Z can be briefly heard on several of Jaz-O's early recordings in the late 1980s and early 1990s, including "H. P. Gets Busy", "The Originators" and "Hawaiian Sophie". Jay-Z became embroiled in several battles with rapper LL Cool J in the early 1990s. He first became known to a wide audience on the posse cut "Show and Prove" on the 1994 Big Daddy Kane album Daddy's Home. Jay-Z has been referred to as Big Daddy Kane's hype man during this period, although Kane explains that he did not fill the traditional hype man role, and was instead basically making cameo appearances on stage. "When I would leave the stage to go change outfits, I would bring out Jay-Z and Positive K and let them freestyle until I came back to the stage." According to his second verse on "99 Problems" (2003), Jay-Z, in 1994, was stopped by an NYPD detective, en route to an I-95 interstate, possibly for a search of drugs in his car. Detection dogs were called, but another police car had passed; Jay-Z was let go soon after. The young Jay-Z appeared on a popular song by Big L, "Da Graveyard", and on Mic Geronimo's "Time to Build", which also featured early appearances by his former Murder Inc. colleagues Ja Rule and DMX in 1995. His first official rap single was called "In My Lifetime", for which he released a music video in 1995. An unreleased music video was also produced for the B-side "I Can't Get with That."
CAREER
Shawn Corey Carter (born December 4, 1969), known professionally as Jay-Z, is an American rapper, record producer, entrepreneur, and founder of Manhattan-based conglomerate talent and entertainment agency Roc Nation. He is regarded as one of the greatest rappers of all time. He was the CEO of Def Jam Recordings and he has been central to the creative and commercial success of artists including Kanye West, Rihanna, and J. Cole.
Born and raised in New York City, Jay-Z first began his musical career in the late 1980s; he co-founded the record label Roc-A-Fella Records in 1995 and released his debut studio album Reasonable Doubt in 1996. The album was released to widespread critical success, and solidified his standing in the music industry. He went on to release twelve additional albums, including the acclaimed albums The Blueprint (2001), The Black Album (2003), American Gangster (2007), and 4:44 (2017). He also released the full-length collaborative albums Watch the Throne (2011) with Kanye West and Everything Is Love (2018) with his wife Beyoncé.
Through his business ventures Jay-Z has become the first hip-hop billionaire. In 1999, he founded the clothing retailer Rocawear, and in 2003, he founded the luxury sports bar chain 40/40 Club. Both businesses have grown to become multi-million-dollar corporations, and allowed him to start up Roc Nation in 2008. In 2015, he acquired the tech company Aspiro and took charge of their media streaming service Tidal. In 2020, he launched "Monogram", a line of cannabis products.
One of the world's best-selling music artists, with over 140 million records sold, Jay-Z has won 24 Grammy Awards, the joint-most Grammy awards of any rapper along with Kanye West. Jay-Z also holds the record for the most number-one albums by a solo artist on the Billboard 200 (14). The recipient of the NAACP's President's Award, a Primetime Emmy Award, and a Sports Emmy Award, he has also received a nomination for a Tony Award. Ranked by Billboard and Rolling Stone as one of the 100 Greatest Artists of All Time, Jay-Z was the first rapper honored in the Songwriters Hall of Fame, and the first solo living rapper inducted in the Rock and Roll Hall of Fame. In 2013, Time named him one of the 100 most influential people in the world.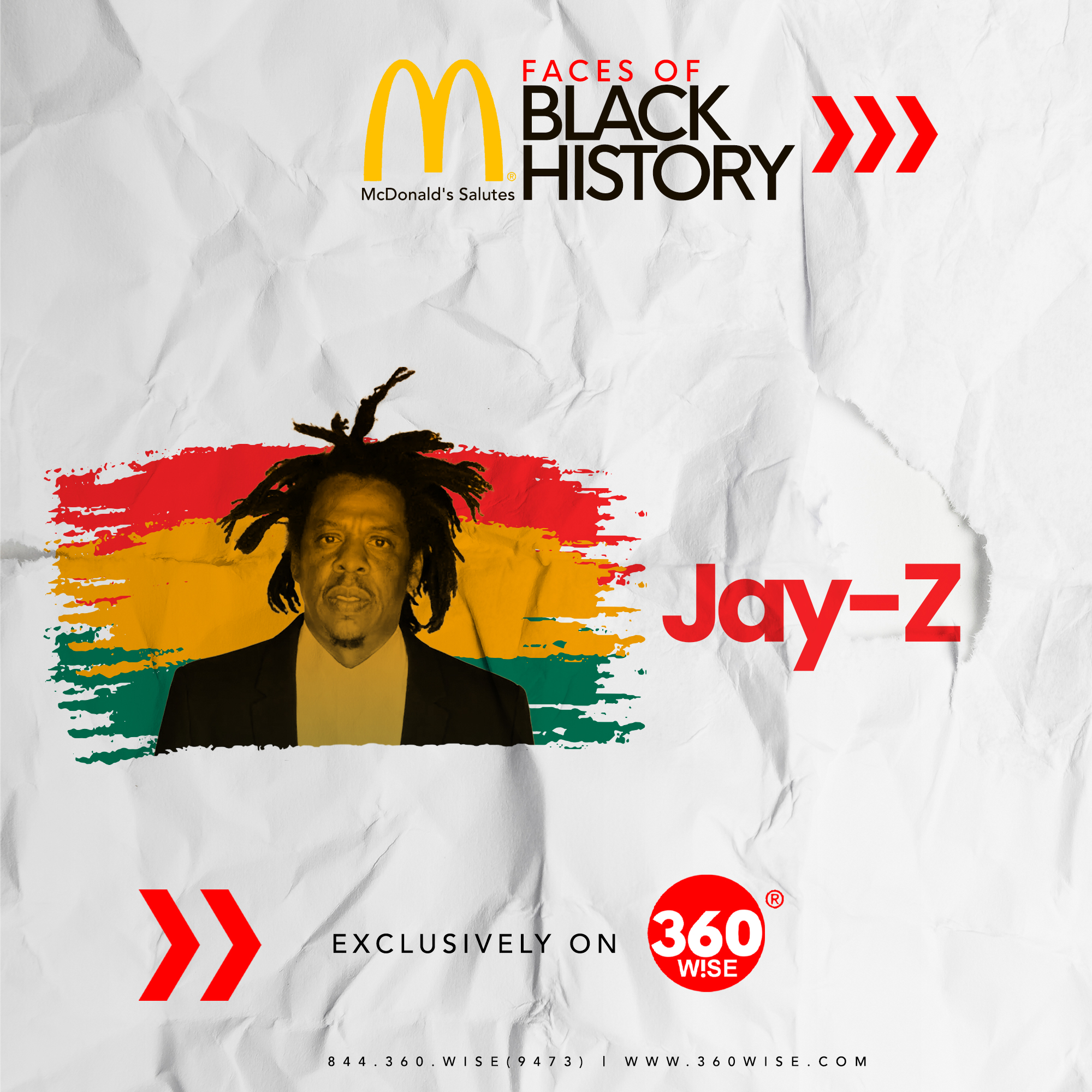 QUICK FACTS
co-founded the record label Roc-A-Fella Records in 1995

released his debut studio album Reasonable Doubt in 1996
Thank you to the New York Tristate Owner and Operators Association for your continued support of the Black Community.
All featured faces of Black History are not captured in the 2023 theatre production.