THE MOMENT
Early Life
American actress, singer, and dancer best known for her portrayal of Nyota Uhura in Star Trek and its film sequels. Dell Nichols was born the third of six children on December 28, 1932, in Robbins, Illinois, a suburb of Chicago, to Samuel Earl Nichols, a factory worker who was elected both town mayor of Robbins in 1929 and its chief magistrate, and his wife, Lishia (Parks) Nichols, a homemaker. Disliking her name, Nichols asked her parents for a new one; they offered "Nichelle", which they said meant "victorious maiden" (from Nike and the suffix -elle). Later, the family moved into an apartment in the Woodlawn neighborhood of Chicago. Nichols attended Englewood High School, from which she graduated in 1951. From age 12, she studied dance at the Chicago Ballet Academy
Nichols began her professional career as a singer and dancer in Chicago. She then toured the United States and Canada with the bands of Duke Ellington and Lionel Hampton. In 1959, she appeared as the principal dancer in the film version of Porgy and Bess Nichols' acting break came in an appearance in Kicks and Co., Oscar Brown's highly touted but ill-fated 1961 musical. In a thinly veiled satire of Playboy magazine, she played Hazel Sharpe, a voluptuous campus queen who was being tempted by the devil and Orgy Magazine to become "Orgy Maiden of the Month". Although the play closed after a short run in Chicago, Nichols attracted the attention of Hugh Hefner, the publisher of Playboy, who booked her as a singer for his Chicago Playboy Club. She also appeared in the role of Carmen for a Chicago stock company production of Carmen Jones and performed in a New York production of Porgy and Bess. Between acting and singing engagements, Nichols did occasional modeling work.
In January 1967, Nichols also was featured on the cover of Ebony magazine, and had two feature articles in the publication in five years.[18] Nichols continued touring the United States, Canada, and Europe as a singer with the Duke Ellington and Lionel Hampton bands. On the West Coast, she appeared in The Roar of the Greasepaint and For My People and she garnered high praise for her performance in the James Baldwin play Blues for Mister Charlie. Prior to being cast as Lieutenant Uhura in Star Trek, Nichols was a guest actress on television producer Gene Roddenberry's first series The Lieutenant (1964) in an episode, "To Set It Right", which dealt with racial prejudice.
MUSIC
Nichols released two music albums. Down to Earth is a collection of standards released in 1967, during the original run of Star Trek. Out of This World, released in 1991, is more rock-oriented and is themed around Star Trek and space exploration.
As Uhura, Nichols sang songs on the Star Trek episodes "Charlie X" and "The Conscience of the King".
Historic Research Credit: Famous African Americans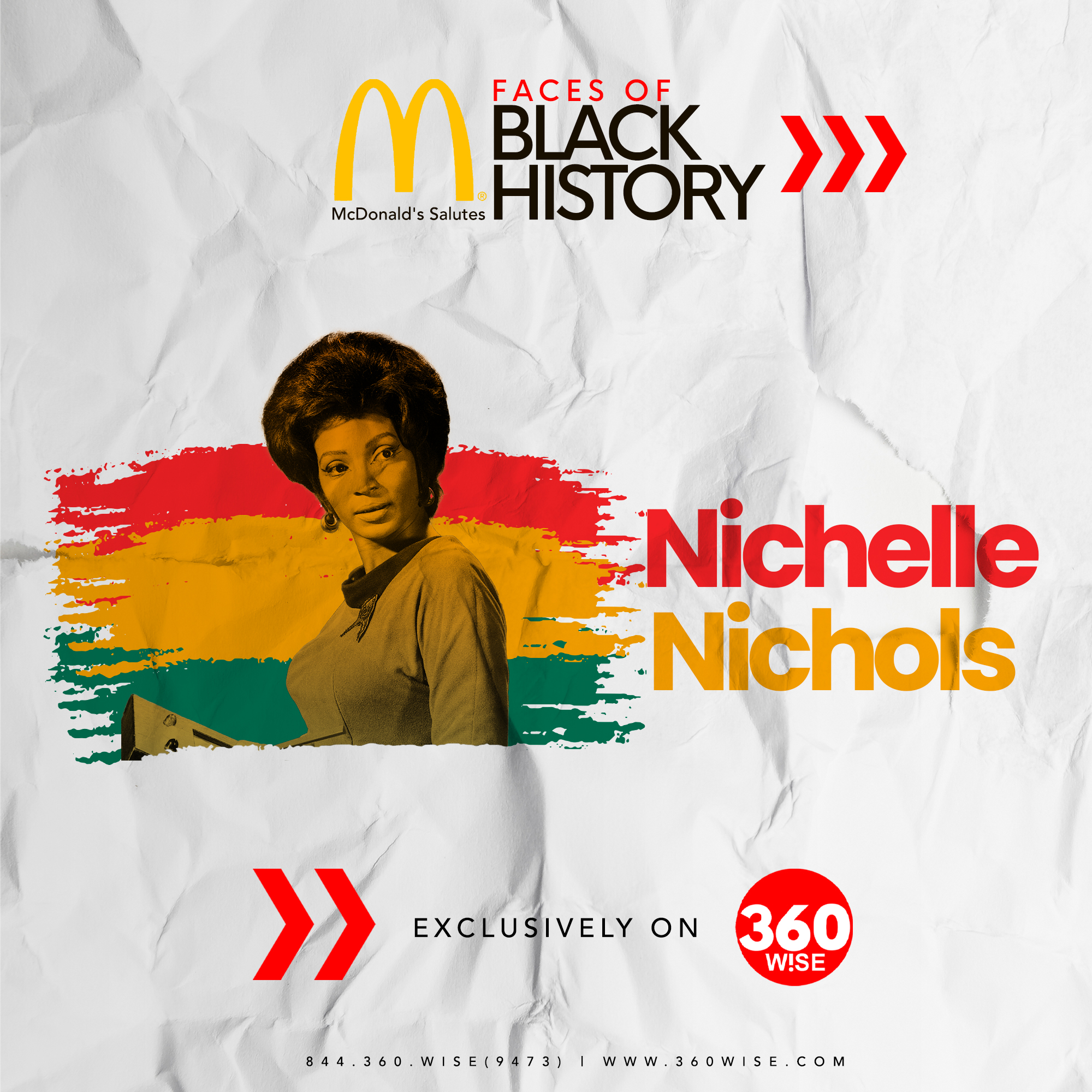 QUICK FACTS
Best known for her portrayal of Nyota Uhura in Star Trek

One of the first Black women featured in a major television series

Died July 30, 2022 at the age of 89
Thank you to the New York Tristate Owner and Operators Association for your continued support of the Black Community.
All featured faces of Black History are not captured in the 2023 theatre production.