THE MOMENT
Early Life
Sidney Poitier was born on February 20, 1927, in Miami, Florida. He arrived two and a half months prematurely while his Bahamian parents were on vacation in Miami. Soon after Sidney's parents returned to the Bahamas with their newborn baby boy. There Poitier spent his early years on his father's tomato farm on Cat Island. The family later moved to Nassau, when Sidney was around the age of 10. In Nassau, Poitier seemed to have a knack for getting himself into trouble which helped him in later life to kick down doors of oppression. At the age of 16, Sidney moved to New York where he found his life's passion.
Theater
Sidney made a deal with the American Negro Theater in New York City to receive acting lessons in exchange for working as a janitor for theater. He eventually made his way to the ANT stage, filling in for Harry Belafonte in their production of Days of Our Youth. In 1946, Sidney appeared in a Broadway production of Lysistrata to great acclaim. His success in that role landed him another play Anna Lucasta, and for the next few years Sidney toured the country with the all-Black production.
Sidney Poitier's Films
Early Career: 'No Way Out to' to 'Blackboard Jungle'
Sidney made his Hollywood debut in the 1950 feature film No Way Out, and he followed in 1951 with Cry, the Beloved Country, a drama set in South Africa during the time of apartheid. He enjoyed a career breakthrough in 1955 with the popular Blackboard Jungle, portraying a troubled but gifted student at an inner-city school.
Oscar Nom for 'The Defiant Ones' and Win for Lilies of the Field'
Sidney's success as an actor reached new heights when he scored an Academy Award nomination for the 1958 crime drama The Defiant Ones, with film actor Tony Curtis. The following year, he lit up the screen as a leading man in the musical Porgy and Bess, co-starring with the lovely Dorothy Dandridge. Both this film and his impressive turn in the 1961 film adaptation of A Raisin in the Sun helped make the actor a top star. In 1964, Sidney claimed the Best Actor Academy Award for his performance in Lilies of the Field (1963) the first win by an African American actor in this category. This accolade helped make Sidney cinema's first Caribbean American superstar, one who consciously defied racial stereotyping.
'Heat of the Night', 'Guess Who's Coming' and 'To Sir', with Love
In 1967, Sidney delivered three very different yet equally strong performances. He played Philadelphia detective Virgil Tibbs in the Southern crime drama In the Heat of the Night. In Guess Who's Coming to Dinner he played a Black man engaged to a white woman in this groundbreaking look at interracial marriage. Legendary Actors Katharine Hepburn and Spencer Tracy played his fiancée parents in the film. He also starred as an inner-city teacher Mark Thackeray in the British film To Sir, with Love. The film finds Thackeray navigating racial and socioeconomic friction between rebellious and unruly students and winning their respect in the end. While he helped break down the color barrier in film and brought dignity to the portrayal of noble and intelligent characters, Sidney found himself under fire for not being more politically radical in the late 1960's.
Directing Success: 'Buck and the Preacher' to 'Stir Crazy'
In 1972 Sidney made his directorial debut and co-starred with his friend Harry Belafonte in the Western Buck and the Preacher. The pair also appeared together in the 1974 comedy Uptown Saturday Night, the first of several Poitier-directed efforts that featured Bill Cosby. In the 1980, Poitier helmed the Richard Pryor-Gene Wilder comedy Stir Crazy, which became the highest grossing film by an African American director for many years.
'Shoot to Kill' and Other Late Roles
After a short absence from the big screen as an actor, Sidney returned in 1988 with a pair of dramas Shoot to Kill and Little Nikita. Other notable later films include Sneakers (1992) and One Man, One Vote (1997). On the small screen, Sidney earned accoladed for portraying some of history's famous men. He played U.S. Supreme Court Justice Thurgood Marshall in Separate but Equal in 1991 and opposite Michael Caine as South African leader Nelson Mandela in Mandela and De Klerk in 1997.
Awards and Books
Sidney published two books titled The Measure of a Man a spiritual autobiography (2000), and Life Beyond Measure: Letters to My Great Granddaughter (2008). Poitier has received numerous honors during his legendary career. He was appointed a Knight Commander of the British Empire in 1974, which entitles gives him the title Sir Sidney Poitier. In 2009 he received the Presidential Medal of Freedom from President Barack Obama. Two years later he was feted by the Film Society of Lincoln Center, earning the organization's Chaplin Lifetime Achievement Award. Poitier has also served as non-resident Bahamian ambassador to Japan and to United States Nations Educational, Scientific and Cultural Organization. Sidney Poitier is a shining example of how someone from a menial background can do great things and move mountains from the talents that are bestowed on them.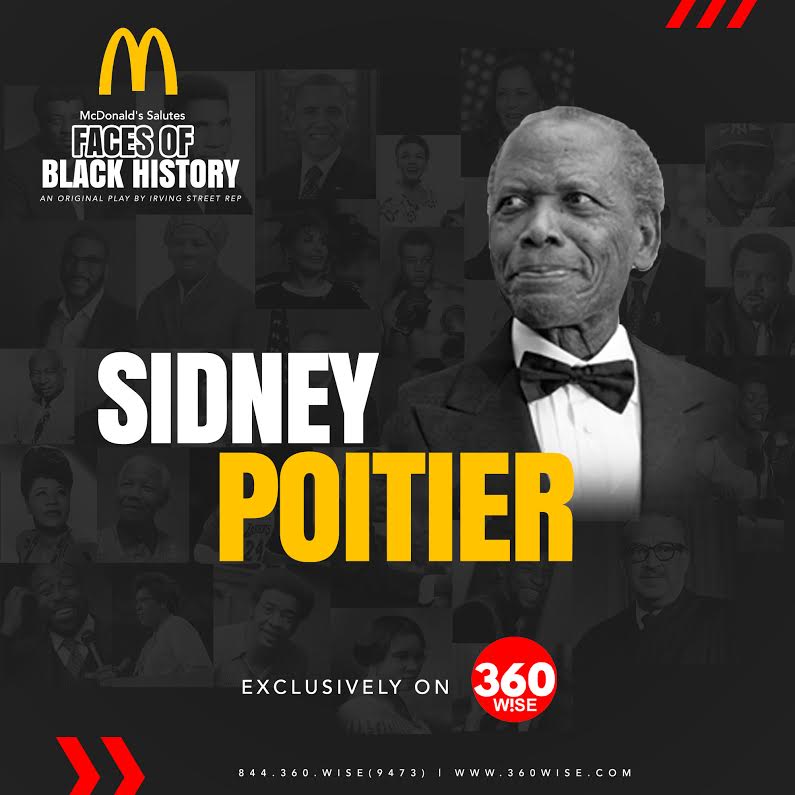 QUICK FACTS
Sidney Poitier was born on February 20, 1927, in Miami, Florida.

In 1964, Sidney claimed the Best Actor Academy Award for his performance in Lilies of the Field.

Poitier served as non-resident Bahamian ambassador to Japan.
Thank you to the New York Tristate Owner and Operators Association for your continued support of the Black Community.
All featured faces of Black History are not captured in the 2022 theatre production.