THE MOMENT
Who is Rita Moreno?
Rita Moreno is a name that reverberates with strength, perseverance, and talent. An iconic figure in the entertainment industry, Moreno is a living testament to the power of dreams and the determination to achieve them. A proud Puerto Rican, she has become a symbol for Hispanic Heritage Month, her story serving as a beacon of inspiration for many.
The journey of Rita Moreno is not just about her stardom; it's a narrative of resilience, battling stereotypes, breaking norms, and redefining the role of Hispanics in Hollywood. A woman of substance, Moreno's life is a rich tapestry woven with courage, persistence, and an undying love for her craft.
Rita Moreno is not just an actor; she is an emblem of the Hispanic community, a role model to many, and a true beacon for Hispanic Heritage Month and beyond. In this article, we delve into the life of this extraordinary woman, tracing her early life, career, contributions, and the lessons we can learn from her journey.
Rita Moreno: Early Life and Career Beginnings
Born on December 11, 1931, in Humacao, Puerto Rico, Rosa Dolores Alverio, popularly known as Rita Moreno, had a humble beginning. Raised in a family of modest means, she moved to New York City when she was only five years old. Although the transition was challenging, it spurred her determination to succeed.
Her passion for acting grew as she watched movies in her neighborhood, dreaming of becoming a Hollywood star. Despite the odds stacked against her, she pursued her dream relentlessly. At the age of 16, she made her Broadway debut in "Skydrift." This marked the start of her journey into the world of entertainment, a journey that would leave an indelible mark on the industry.
Through the early years of her career, Moreno faced several obstacles. The roles she was offered were often stereotypical and demeaning, reflecting the narrow perspective of Hollywood towards Hispanics at the time. However, with her unwavering determination, she continued to break barriers, proving that talent knows no color, race, or ethnicity.
Rita Moreno: A Prolific Career in Entertainment
Moreno's career in the entertainment industry is nothing short of extraordinary. Over the years, she has showcased her exceptional talent in theater, film, and television. Despite the initial setbacks, she carved a niche for herself, becoming one of the most revered actors of her time.
With over seven decades in the industry, Moreno has an impressive portfolio of diverse roles. From playing the fiery Anita in "West Side Story" to the wise and witty Sister Peter Marie in "Oz," she has demonstrated her versatility time and again. Each role she played added a new dimension to her career, reinforcing her status as a powerhouse performer.
Her contribution to the entertainment industry extends beyond acting. Moreno has also lent her voice to several animated characters, further proving her versatility. In addition, she has been an active participant in various philanthropic activities, using her fame to support causes close to her heart.
Rita Moreno's Oscar Winning Achievement
Rita Moreno's Oscar win in 1962 for her stunning performance in "West Side Story" was a landmark moment, not just in her career but for the entire Hispanic community. Her portrayal of Anita, a spirited and strong-willed Puerto Rican immigrant, was met with widespread acclaim. This role earned her the prestigious Oscar for Best Supporting Actress, making her the first Hispanic woman to win the award.
Her Oscar win was a turning point in her career. It not only catapulted her to global fame but also gave her the platform to challenge the stereotypes associated with Hispanic characters in Hollywood. This achievement served as an inspiration to many aspiring actors from minority communities, proving that talent and perseverance could break the highest glass ceilings.
Rita Moreno's Contributions to Hispanic Heritage Month
Hispanic Heritage Month is a celebration of the history, culture, and contributions of Hispanic Americans. And Rita Moreno has been at the forefront of this celebration. Her success story, her fight against stereotypes, and her contribution to the entertainment industry have made her a key figure in Hispanic Heritage Month.
Moreno has used her platform to raise awareness about the struggles and achievements of the Hispanic community. She has been vocal about the need for diversity and representation in Hollywood, advocating for more substantial and non-stereotypical roles for Hispanic actors.
Her work as an activist has also been significant. She has lent her voice to various causes, including education, women's rights, and immigrant rights. Through her actions, Moreno has emphasized the importance of Hispanic heritage and its influence on American society.
The Impact of Rita Moreno on the Entertainment Industry
Rita Moreno's impact on the entertainment industry is profound. She has not only paved the way for future generations of Hispanic actors but also challenged the industry to rethink its portrayal of minority characters.
Her Oscar win broke the mold, proving that Hispanic actors could play complex and meaningful roles. Through her career, she has demonstrated the importance of diversity and representation on screen, pushing for a more inclusive industry.
Moreno's influence is not confined to the acting world. Her activism and advocacy work have prompted important discussions about equality, representation, and the power of art to effect change. Her journey is a testament to the impact one individual can have on an industry and society at large.
Lessons to Learn from Rita Moreno's Career
Rita Moreno's career offers several valuable lessons. Her journey teaches us that no dream is too big if you have the determination to pursue it. Despite the obstacles she faced, she never gave up on her passion for acting.
Her story also underscores the importance of resilience. Even in the face of adversity, Moreno remained resolute, always striving to break the mold and redefine norms. This unwavering determination is something we can all learn from.
Lastly, Moreno's career demonstrates the power of using your platform for good. She used her fame to advocate for change, proving that success is not just about personal achievements but also about making a difference in the world.
Rita Moreno: A Beacon of Hispanic Heritage Month and Beyond
Reflecting on Rita Moreno's journey, it's clear that she is much more than a celebrated actor. She is a symbol of hope, resilience, and perseverance. Her story is a beacon of inspiration, particularly during Hispanic Heritage Month, reminding us of the power of dreams and the strength of the human spirit.
Her contributions to the entertainment industry and her advocacy work have left a lasting impact, making her a true icon of Hispanic heritage. As we celebrate Hispanic Heritage Month, let's remember and honor the trailblazers like Rita Moreno who have paved the way for future generations.
Conclusion: Rita Moreno's Enduring Legacy
Rita Moreno's legacy is one of triumph, resilience, and relentless pursuit of dreams. Through her remarkable career, she has not only entertained millions across the globe but also inspired countless individuals, particularly within the Hispanic community.
Her enduring legacy serves as a beacon of hope, reminding us all of the power of perseverance, the importance of representation, and the transformative nature of art. As we continue to celebrate Hispanic Heritage Month, let's honor the contributions of Rita Moreno and strive to keep her spirit alive in our hearts.
Hispanic Heritage Month is a time of celebration, reflection, and recognition of the contributions of Hispanic Americans. Join us in celebrating this special month and honoring the remarkable individuals like Rita Moreno who have shaped our history and culture.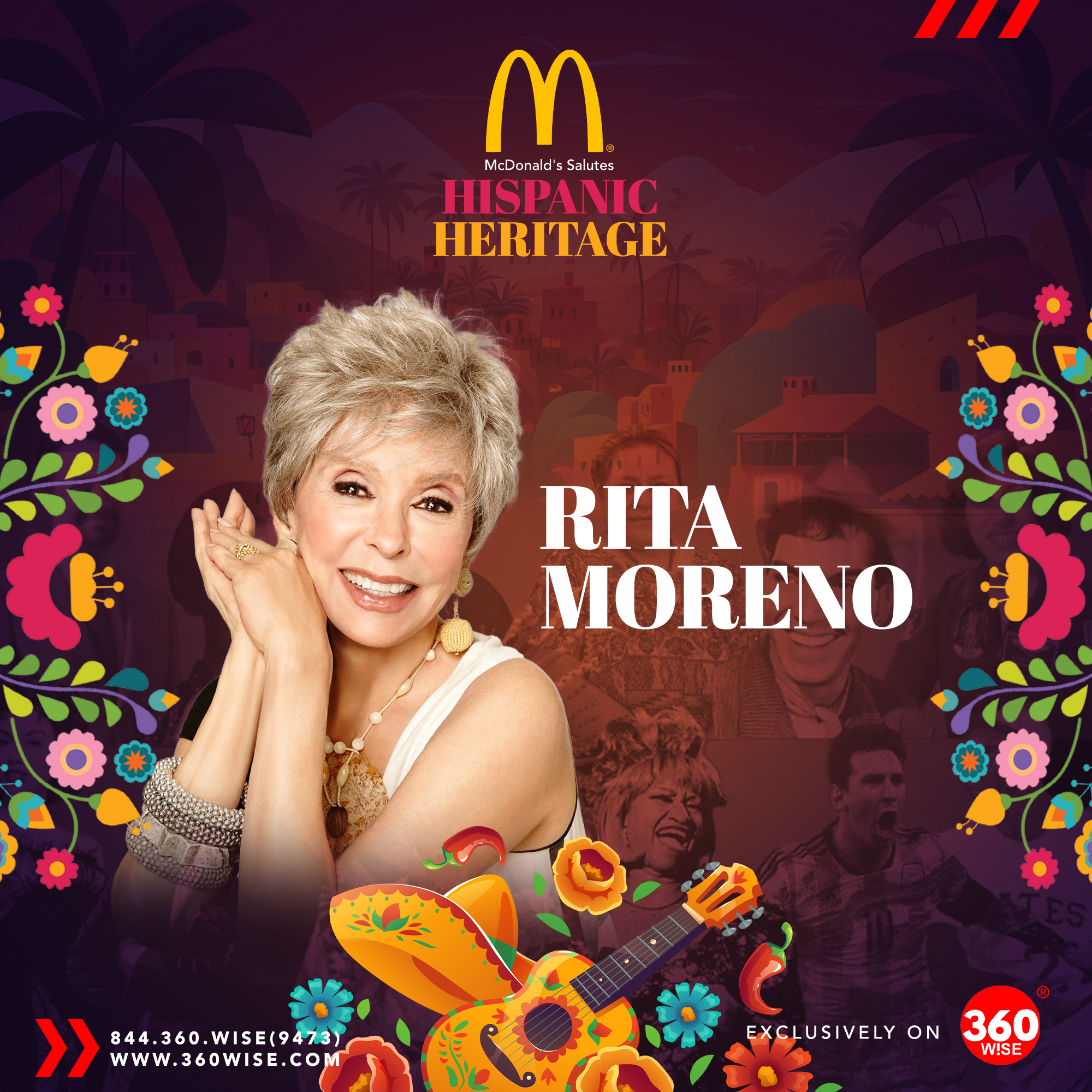 QUICK FACTS
Rita Moreno is one of the few artists to have won an Emmy, a Grammy, an Oscar, and a Tony, often referred to as EGOT.

She is the first Hispanic woman to have received an Oscar.

Moreno was awarded the Presidential Medal of Freedom in 2004 and the National Medal of Arts in 2009.

She is known for her activism and has been a strong advocate for women's rights and Hispanic rights.

Even in her late 80s, Moreno continues to work, recently starring in the popular Netflix series "One Day at a Time.
Thank you to the New York Tristate Owner and Operators Association for your continued support.